Tame Impala – "Currents" ( Modular/Interscope)
Just the irresistible bass line of the eight-minute long opener "Let it Happen", along with the hand claps that make the groove so airy, are enough to win over the listener. After a few bars you're totally into Tame Impala's new album, and from then on you'll be hard-pressed to get the melodies and harmonies out of your head again. Ever since 2008, mastermind Kevin Parker has been working under the conceptual umbrella brand of Tame Impala and where its predecessor "Lonerism" (2012) already flirted with perfecting a sound formula, on "Currents" everything is now in its place. Parker makes use of hip-hop's cut and paste techniques, but he works them into the background sound in a completely organic way. So, the bottom line is that this one-man studio band has once again come up with a stroke of genius—striking a balance between Michael Jackson's "Thriller", Daft Punk's lighter moments and the soft overtones of more progressive varieties of pop à la Empire of the Sun or MGMT.r MGMT.
Sleaford Mods – "Key Markets" (Harbinger Sound)
The fact that the minds of Sleaford Mods, as well as those of their viewers too, are white-hot was quite recently confirmed on a small pavilion stage in London's Hyde Park. While only a few metres away people were listening to the sounds of distinguished British legends such as Paul Weller and The Who, a throng of no more than 150 hard-core onlookers lent their ears to the duo. With last year's "Divide And Exit" the duo won over new listeners even among the feature pages of major magazines. Their reputation is now firmly established with "Key Markets". The previous formula remains the same: Andrew Fearn, beer can lover and electronic cigarette chain smoker supplies the beats and the bass, singer/rapper/narrator Jason Williamson carves out the lyrics—relentless snapshots of the British way of life full of analysis, black humour and directness—in his characteristic staccato. It is, so to speak, a post-modern update of such greats as John Cooper Clarke or Mark E. Smith. This may not be the easiest of listening, but it's extremely exciting and entertaining.
The Chemical Brothers – "Born in the Echoes" (Virgin/EMI)
Have two decades really already passed? In the summer of 1995 the Chemical Brothers released their début "Exit Planet Dust".  The masterpiece "Dig Your Own Hole" followed two years later. Songs like "Setting Sun" and, in particular, "Block Rockin 'Beats" had settled forever in musical memory, anchoring a spot in the annals of pop for these massive hybrids made out of rock gestures on foundations of techno rhythms. Recently, the duo comprising Ed Simons and Tom Rowland has gone very quiet. It seems as if the two have been tinkering away in secret to climb directly back up to the dizzy heights of pop with a quasi-comeback. "We wanted to get some grooves back,", is how Rowland recently put it in Mojo magazine and the fact is, the endeavour has been successful: songs like "Wide Open", with Beck as a guest, "Go to Radiate" with Q-Tip on board, or the opulent "Sometimes I feel so deserted" are the sort of class act that only the Chemical Brothers—with their high-rise high beats—are capable of pulling off.  Welcome back.
Miles Davis – "At Newport 1955 – 1975: The Bootleg Series 4"
Almost exactly to this day 60 years ago Miles Davis first appeared at the legendary Newport Jazz Festival. It was to be a performance with far-reaching consequences that secured the jazz giant his contract with Columbia Records. Right in time for the anniversary, "Miles Davis At Newport 1955-1975" now chronicles the two-decade long history of Davis and Newport. There are four hours of previously unpublished material. The most striking tracks include the legendary 1955 jam session jam session with Thelonius Monk and Gerry Mulligan as well as Davis' last appearance in 1970: it's all documented here in an extremely listenable way. Nothing less than such legendary jazz gems as the recordings made together with Cannonball Adderley, John Coltrane, Bill Evans, Paul Chambers and Jimmy Cobb, who played—or rather celebrated—that Miles milestone "Kind of Blue" together. This box set comprises four CDs; it's a highly suitable format when it comes to compilation and presentation and one that's appropriate on this auspicious occasion.
Jamie xx – "In Colour" (Young Turks/XL/Beggars)
Good things come to those who wait, and nobody knows better than our Jamie. What with being busy with his band The xx, as well as doing remixes for Florence & the Machine, Radiohead, and Adele, jobs producing superstars of the calibre of Alicia Keys and Drake, and not forgetting the update of Gil Scott-Heron's "I'm new here" – his solo début has to make some concessions to time constraints. But now it is here, and it was worth the wait. "In Colour" is a fitting title for a collection of songs that furnishes the pop arrangements so utterly typical of xx with an equally characteristic melancholic note. It comes as no surprise that "I know there's gonna be (Good Times)" quotes Nile Rodgers in its title, the single "Girl" develops into a very laid back summer work, and "Seesaw" bridges the gap between the lightness of Air and the introverted gestures of Shoegazer sounds. All in all, a really good record. The only request to the artists: please don't let another six years go by before the next one.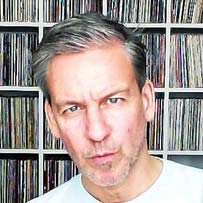 On my turntable
Ingo Scheel – Ibiza Style Music Editor
Chic – "C'est Chic"
The album title says it all: nothing but hits. The optimal soundtrack for summertime that's as danceable as it is elegant.
The Who – "Who's Next"
The recent show in London's Hyde Park is rumoured to have been their last one in the Thameside metropolis. So be it: a monolith like this album is going to stand the test of time.
Daft Punk – "Discovery"
On its own, "One More Time" sounds like it was made for the repeat button. It takes more than just three goes.
The Helio Sequence – "The Helio Sequence"
A collection of songs in the form of a Greatest Hits album. Neo pop that is occasionally meditative, and contagiously catchy in the long run.
Learning English with the "Little Ghost".
In need of a catchy tune? You won't be able to get the intro tune from Anni's English course out of your head for hours!