Air – "twentyears" (Warner)
Few records left their mark on the late 90s like Air´s debut album did. The French pair made up of Jean-Benoit Dunckel and Nicolas Godin called their creation "Moon Safari" and their songs seemed to explore distant galaxies. The opening track, "La Femme d'Argent", is sunlight set to music, "Sexy Boy", is highly compressed electro pop and "Kelly watch the Stars", sounds like a rendezvous between Kraftwerk, late-70s-wave and neo-chanson. In short, it´s a congenial blend of easy listening, laissez-faire and soundtrack-compatible gems somewhere between Eric Rohmer, Gainsbourg and Pink Floyd. This was followed by prog rock experiments ("10,000 Hz Legend"), film work ("Virgin Suicides"), and concept albums ("Le Voyage dans la Lune").  In between they made a record, "Talkie Walkie" that probably comes closest to the genius of the first phase. So, with "twentyyears", the two of them now present an anniversary compilation that adequately reflects the duo´s work over the past two decades. Collectors will no doubt already possess the classics in the cupboard and should wait for the enhanced luxury version; for late deciders and those just starting to explore, however, this is a highly successful compilation by the French musical icons.
Biffy Clyro – "Ellipsis" (Warner)
The band´s name sounds like a mixture of disinfectants and comic characters and their sound could not—or better, did not want to—decide how to be classified ever since they made their debut in 2002 with the album, "Blackened Sky". First their hearts beat for escalating prog rock, and then they came out with three-minute rockers suitable for stadiums. Their passionate, loyal fans have always followed them along this path and that should not change with "Ellipsis", their seventh album. Frontman, Simon Neil, cites such diverse influences as the Tears For Fears album, "Songs From The Big Chair", DJ Arca and Deafheaven, describing "Ellipsis" as "more like a punch on the nose than an intimate embrace". Personal subjects characterise the lyrics, based on the main motif of "putting up a fight". Listeners shouldn´t put up much resistance to them as—similar to the colleagues in Muse, only without the heightened hysteria factor—they once again combine stately hit songs with complex structures and wonderful melodies with sinuous arrangements. Alternative sound that goes beyond stylistic boundaries.
DJ Shadow – "The Mountain will fall" (Mass Appeal/Groove Attack)
It is probably both a curse and a blessing when your debut becomes a milestone, a standard reference work stamped on a decade, right out of the starting blocks.  Josh Davis, better known as DJ Shadow, managed this feat in 1996 with his first release, "Endtroducing". Released on Mo'Wax, the album entered pop history as the first record to be entirely composed of samples.  The fact that—ever since then—the studio magician has to be measured by this offspring doesn´t appear to concern him in the least. With "The Mountain will fall", he now presents his fifth album. It comes out on the mass appeal label and it is his first studio work since 2011. This time, DJ Shadow´s focus lies on his own compositions: as usual, he juggles beats, individual sounds and spheres, constructing the kind of singular sound that we have now come to know and love over the last two decades. Such diverse artists as Run The Jewels, Nils Frahm, Matthew Halsall and Ernie Fresh have supported him this time. In doing so they have used not only samplers and synths, but also horns and woodwind instruments. The slogan, "reinventing oneself", may sound like something of a cliché, but we can draw upon it again for DJ Shadow. The man masters this self-confident gimmick in the way that scarcely anyone else does. A fantastic record!
Hailu Mergia – "Wede Harer Guzo" ( Awesome Tapes from Africa)
Hailu who? You don´t know Hailu Mergia? Well, don´t grieve because all that can change. Alf Burchardt, the editor of Stern magazine´s culture section, recently introduced the Ethiopian musician to a wider audience and for that we should thoroughly applaud because, especially for such distantly located world music gems of all kinds, there has to be a pearl diver who brings the jewels out into the sunlight. Mergia is now a 70-year-old taxi driver in Washington, but when he was a musician in the 70s he recorded his only record with the Dahlak band, with whom he now goes on tour every now and again, still delighting his fans. On the one hand, the tracks on "Wede Harer Guzo" sound as if they came from another dimension of lounging while, on the other, they are both crudely artful and unbelievably groovy. It´s as if the organist for the intervals in games of ice hockey had got together with David Axelrod under the aegis of Quentin Tarantino to write the soundtrack for a film that has not been made yet. Funky, laid back, unique. What a discovery! Thanks, Alf Burchardt.
Garbage – "Strange Little Birds"
In the second half of the 90s Shirley Manson and her young lads were one of the most enigmatic phenomena on the mainstream-compatible alternative rock scene. In Butch Vig, not only did they have an accomplished drummer on board, but also one of those studio titans who could clothe albums by bands such as Nirvana or Smashing Pumpkins in the kind of musical garb that brought success. Hardly surprising then that the combination of first class female singer and top notch producer ensures a furore and that hits like "Only Happy When it Rains" or "Queer" have seen them officially strike out on their own. While the band withdrew further and further in the noughties, with "Strange Little Birds" Garbage are now bouncing back, finally coming up with just the kind of long-awaited comeback album that you would have ideally wished for. Songs like the single, "Empty", the groovy, "Blackout", or the study in ´Siouxsie-meets-The Cure´, "Night Drive Loneliness", tread the fine line between catchy and complex, worm their way into your aural pathways and don´t quickly leave again. Welcome back, Shirley Manson!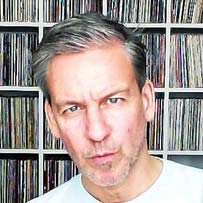 On my turntable
Ingo Scheel – Ibiza Style Music Editor
Siouxsie & the Banshees – "The Scream"
One of the first masterpieces of the emerging post-punk scene, it has lost none of its morbid lustre.
Catfish & the Bottlemen – "The Ride"
The Welsh band continues to expand its circle; a superb Brit rock update with hits by the dozen
DJ Shadow – "Endtroducing…"
It's a good time for rediscovery. Even though it came out 20 years ago, this visionary classic hasn´t aged a single day
FEE – "Notaufnahme"
Almost forgotten third-division NDW (German new wave) heroes who pack some real timeless songs in their trunk: viz. "America" or "Overdrive"
Queen – "News of the World"
Let's hear it for Anni´s kindergarten where "We will rock you" was sung in the music lesson. Then the encore at home, together with Freddie Mercury & Co.