Quantum Collage – "Lucid Dreaming" (Ouie/Rough Trade)
Quantum Collage is the brainchild of Olaf Gutbrod from southern Germany and the beginning of his passion for music can be pinpointed fairly closely. He first took up the guitar at the age of nine; an encounter that was to become the starting point for a long, musical journey. Gutbrod travelled through Africa, India and right across the South American continent.  As Ohm-G, in 2002 he finally moved to Ibiza, where he quickly made a name for himself in the emerging chill-out scene. His tracks adorned the legendary "Café del Mar" and "Hotel Costes" compilations. He created a thoroughly trademark sound that made him unmistakable. Nonetheless, Gutbrod (alias Ohm-G alias Quantum Collage) was always on the lookout for new sounds, new inspirations and new ways to combine classic sounds with newly discovered spheres and melodies. His new E.P. Lucid Dreaming is the best example thereof; his very own cosmos combining the best of different worlds. It's novel and yet somehow familiar, inspiring and passionate. "Inspiring music lovers, dancers and dreamers alike" – that is the mission statement of this musical all-rounder, and his new tracks work it out in an inspirational way.
Km5 Ibiza – "Volumen 17" (Kontor)
The number in the album title says it all: Km5 has been bringing out compilations for a barely credible 17 years. And this year too, the classic label is easily able to maintain its customary high level. Comprising two CDs, the collection of songs includes 12 tracks on each one of the silver discs, selected and mixed by Sergi Ribas, resident DJ for one and a half decades, and Josch Genske, owner of the label and the founder of Km5. CD 1 captivates you with great vocal tracks and remixes by artists such as Eli Escobar or Yann Gordo, while, on CD 2, deep-tech tracks like "Lost in a Moment" by Samuel Fach draw listeners in the direction of the dance floor. Ribas on the philosophy of the series: "We want to drive Km5's classic style further and further forward" – doing so with classic sounds including disco, funk and soul. The compilation would not be complete without the artwork of Frann Morán, whose flowers, characters and optical arrangements embody the typical spirit of the island, its sky, sea and vegetation. And the most important thing for Sergi Ribas? "That people can enjoy these wonderful songs anytime and anywhere!"
Too Slow To Disco – "Vol. 3" (How do you are?)
This is the stuff that classic compilations are made of: in terms of style, a clear-cut vision, elaborate series artwork and a mastermind that never tires of descending to the depths of the archives for the collections of songs. Too Slow to Disco is the best example of this and Ibiza Style can quite proudly claim to have featured this compilation from the first note onwards. After the ladies of Too Slow to Disco stood in the spotlight last time, now comes the regular third part with its easy soul, yacht pop and West coast sounds, brought together once more by DJ Supermarkt. This time, the TSTD mastermind has also struck it rich when it comes to more exotic styles. In addition to legends such as Lee Ritenour and The Grateful Dead, the musical gems on this modern milestone include The Cornelius Bumpus Quartet, the Swedish duo of Stars`n Bars, the (British) Vapour Trails and Billy Mernit.
Public Service Broadcasting – "Every Valley" (Pias/Rough Trade)
The London band, namely J. Willgoose Esq., Wrigglesworth and J.F. Abraham, is something like the brainy working group of modern pop music. Just writing good songs is not enough for the trio; as the historical underpinning for their concept albums, there is always a historical reference that is set to music.  Recently, PSB devoted themselves to the 'Race for Space' contest between Russians and Americans towards the end of the 1960s. Tracks like the incredible "Go!" hardwired original dialogues from the Nasa control room and the Apollo with post-modern synthpop halfway between Kraftwerk and Stereolab.  Now, on Every Valley, it is a bit more down to earth. The theme this time is coal mining in Wales, its old history and its present significance.  With their magical hands, PSB transform something that sounds like the complete opposite of pop into something deeply original, a mix of educational TV and "Top of the Pops", news feature and dance floor filler. Groovy, intelligent and, in the best sense, peculiar. In the search for superlatives, one likes to touch upon the band's formulation: how  there is no-one else quite like them. And that certainly applies to very few acts as much as it does to Public Service Broadcasting. Pop for explorers who are hungry for knowledge.
Benjamin Biolay – "Volver" (Barclay/Universal)
That very special arrogance, how he places his cigarettes in the corner of his mouth, pushes his hat to the back of his head, fixating on his counterpart – all this makes the Frenchman like almost no-one else. Gainsbourg was one of those, Belmondo's magic still works and, over the years, the younger generation has propelled the highly talented Benjamin Biolay to the front row of French national heroes as far as pop art is concerned. With his latest album, "Volver", he is likely to cement that status as casually as he does indispensably, and that just one year after its predecessor, Palermo Hollywood. On the new work, Catherine Deneuve's ex son-in-law once again appears to be both eclectic and self-confident.
Defining the chanson all over again, he breathes new life into it between two deep drags; the whole thing in the form of duets with mostly female counterparts, including his ex-wife, Chiara Mastroianni. Among the highlights of the records are Frank Sinatra's "It Was a Very Good Year" and the reggae-rooted "Pardonnez-Moi". There is most definitely nothing to apologise for; on the contrary, here, one of the French superstars of the modern era remains on course in an utterly self-confident and thoroughly listenable way.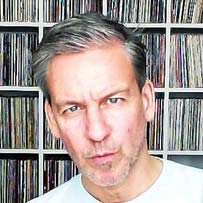 On my turntable
Ingo Scheel – Ibiza Style Music Editor
N.W.A. – 100 Miles and runnin'
This month, the Roskilde Festival that just recently finished and the acts I saw there have left their stamp on my turntable. Among them is the one and only Ice Cube, who now brings me to take the Compton legends, N.W.A., down from the shelf once again.
Kevin Morby – I Have been to the Mountain
I know – he was already precisely at this point one time. But, after I heard this song at Roskilde during the sound check (almost for me exclusively), the chances of him being set aside are extremely remote. A submerged mega hit.
Foo Fighters – Run
The way Dave Grohl and his band won over the 90,000 or so followers in front of the Orange Stage there – there aren't many bands that do that so easily. And the new single fits perfectly into their work.
Idles – Well Done
The first band I enjoyed this year at Roskilde – a beloved place that I have not previously visited in the last twelve years. Superb indie rock somewhere between The Fall and Sleaford Mods.
The Hellacopters – Toys & Flavour
Though they crept onto the line-up at Roskilde as replacements for Blink 182, they were really more than just substitutes. Nikke & co. were convincing in literally every beat of their exquisite set.