Kendrick Lamar – Damn. (Interscope)
In the course of his far from long career so far, Kendrick Lamar has become nothing less than a legend of contemporary rap: in 2010, he made his first appearance with the mix tape, Overly Dedicated, while his début album, Section.80, -released just one year later-turned out straight away to be a massive success. Today the man from much-sung Compton has got collaborations with such greats as Pharrell Williams, Snoop, Eminem and Lady Gaga under his belt, to name just a few. In 2015, To Pimp a Butterfly went to pole position in the charts in the UK and the USA. Its successor, Damn., which has now come out, has also achieved its own day in the sun. Too right: Lamar performs at his customary high level, has long since reached a league of his own and consolidates this reputation, it seems, with light hands and, at the same time, blunt sincerity.  In the eight-minute-long "Fear" the rapper peers deep into his private thoughts, while "Duckworth" tells of a fateful meeting between Lamar Senior and Antony Tiffith, the boss of Kendrick's current label. A multi-layered album full of daring experiments, underpinned by jazz, with exquisite beats and gripping stories.
Ride – Weather Diaries (Wichita)
We recently presented Slowdive's new album here. This month, one of the Shoegaze greats from the UK is also once again in the spotlight. This time it is the new album by Ride, the band that, from 1990 on, built up a devoted fan base with songs such as "Twisterella", "Vapor Trail" and "Leave them all behind".  It wasn't enough for a big breakthrough, and, anyway, from the middle of the decade onwards there was no getting around Blur and Oasis-with whom Ride guitarist Andy Bell later played. Singer Mark Gardener went solo, while drummer Laurence Colbert played the drums for Gaz Coombes, among others. So now, after lots of festivals, club and acoustic shows, there's a new LP at last, Weather Diaries. It's definitely one of the best things that have come out, not just from the band itself but even when compared to their many contemporaries from Slowdive via The Jesus & Mary Chain to Swervedriver. With superb guitar work and those typical, irresistible melodies, the whole thing is located right on the fine line between relaxed playing and tight arrangement.  Top comeback, lads!
Goldie – The Journey Man (Cooking Vinyl/Metalheadz)
Goldie? The Goldie? The man with the gold teeth who made our mouths more than water as far as jungle and drum 'n bass in the mid-90s was concerned? Right, that's him. Born Clifford Joseph Price in Walsall in England in 1965, the current bearer of an MBE (an order of the British Empire) ranked as one of the shining lights of a sound that was as fidgety as it was irresistible. He also co-founded the epochal Metalheadz label. We haven't heard much from him recently, but, with The Journey Man, he now releases what is his first real solo album for almost two decades. You can find 16 new tracks on the double album, and it is noticeable that, in the here and now, Goldie combines the twitchy foundations of his tracks with quasi-laidback sounds. Goldie should thus be thought of less as a producer or songwriter, but rather as much more of an arranger, as a director who brings together the right people for the right track. Singer songwriter, Natalie Duncan, as well as Terri Walker, Natalie Williams and also Mika Wassenaar Price-Goldie's extremely talented spouse-feature among the collaborators on this thrilling, dazzling, multi-faceted record.
T.Raumschmiere – Heimat (Kompakt)
That Marco Haas-the man behind T.Raumschmiere-has his very own approach to techno and the possibilities of combining it with other sonic elements is something the man from Heidelberg has made clear from the beginning of his career. He called his 2002 début, The Great Rock'n Roll Swindle and the reference to the Sex Pistols' legendary album title was no mere coincidence. Haas also comes from punk, once played the drums in hardcore bands and went on, in his conquest of electronic terrain, to wire up the machines' technoid sounds with the anarchic gestures of punk. With "Heimat", Haas has now once more refined his sound. In glam, he dusted off another classic 70s genre and proves how well the hysteria of key acts like Sweet or T.Rex suits the modern vibe of the sound machines. Haas' "Heimatmusik" thus once again creates an utterly spectacular, almost typical balancing act between extravaganza, coolness and emotionality.
Kraftwerk – 3-D The Catalogue (Kling Klang/Parlophone)
The enthusiasm surrounding the most formative German band of all time has not waned even now, 50 years after its founding.  Kraftwerk's concerts are sold out worldwide within minutes, and even if their fans are still waiting for a complete album with new material, reworked classics from Kling-Klang's archive appear with amazing regularity, causing no small stir. This time, the entire back catalogue has been modernised again using sound engineering, i.e. the eight classic Kraftwerk albums in chronological order:  Autobahn (1974), Radio-Aktivität (1975), Trans Europa Express (1977), Die Mensch-Maschine (1978), Computerwelt (1981), Techno Pop (1986), The Mix (1991) and Tour De France (2003). The outcome is nothing less than breathtaking. Kraftwerk purists adhere to the original versions and that is an entirely comprehensible point of view.  However, the sonic rearrangement of things is certainly worth rediscovering and it fits homogeneously into the oeuvre of the pioneers from Düsseldorf.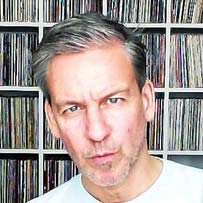 On my turntable
Ingo Scheel – Ibiza Style Music Editor
The Hellacopters – High Visibility
My first Roskilde festival since 2005 – and the Swedish rock legends still just squeezed into the line-up as replacements.  Yeah!
Elvis Costello – This Year's Model
Two or three times a year, the man with the horn-rimmed specs undergoes a revival with me.  This time, I'm listening to my personal favourite album by him over and over.
The Charlatans – Different Days
With the new album, the band behind "The Only One I Know"-a former chart-topping British rave hit-and now a very reliable album act, prove once more their consistently high level.
Rocko Schamoni – Morgenlicht
Two years ago, Schamoni and the Orchestre Mirage took a venture with an almost forgotten body of songs made in Germany:  The version of the classic by Ton Steine Scherben is epic, while the string and wind arrangements are mighty and irresistible.
Paul Weller – A Kind Revolution
There's no-one I like more than the modfather; when it comes to music, he's my personal hero.  Readers of this column may have cottoned on some time back 😉