Beach House – "7"  (Pias Coop/Bella Union/Warner)
Best-of albums and live recordings, outtakes and rarities – such releases are perfect for bridging either brief pauses in inspiration or telling the willing listener that it concerns a break. Victoria Legrand and Alex Scully, the two artists behind Beach House, are no exception. After last year's compilation, "B-sides and Rarities", the two may not have completely reinvented themselves, but they have had a technical sound overhaul and are back again with fresh momentum. They may still come under 'Dreampop', but in the meantime, there are a lot more overtones and daring excursions into adjacent territory. Songs like "Lemon Glow", "Drunk in L.A." or "Pay No Mind" open the doors wider than in recent times to add to the sleepwalking, woollen sound a scratchy, guitar-heavy touch not unlike the French group, Air. Last but not least, Sonic Boom co-producer and engineer, Alan Moulder (Nine Inch Nails, The Killers and others) is to thank for it all fitting harmoniously together.
Too Slow To Disco – "Brasil"(How Do You Are?/Rough Trade)
We stick with the beautiful tradition: There is no getting around "Too Slow To Disco", especially not when the fifth issue sets off in the direction of Brazil, proving once more to be as atmospheric and exquisitely compiled as the four compilations that preceded it. This time, Ed Motta, the young nephew of Brazilian soul icon, Tim Maia, sat at the controls. As a musician, he has released 15 albums while, as a curator, he has a highly competent pair of hands. Sugarloaf Mountain heroes like Rita Lee (once a member of the legendary Os Mutantes), Cassiano, one of the founders of Bossa Trio and Os Diagonais, as well as mega-sellers like Roupa Nova are present. But the big names are not the only ones playing the game here; as usual, the mix is ​​finely flavoured with unknown geniuses of the likes of Carlos Bivar or Gelson Oliveira & Luiz Ewerling, whose tracks have— unbelievably—never been officially released, but rather come from private pressings.Things are still exciting at "Too Slow …", or as Ed Motta himself puts it: "This is a trip to sunset in Rio de Janeiro, Los Angeles, Miami, Hawaii. Aloha!"
Van Morrison & Joey Defrancesco – "You're Driving Me Crazy" (Sony Legacy)
You have to have a legendary status like Van Morrison to wrap his new record in such a not necessarily flattering cover. And it's good that Joey Defrancesco has a sense of humour and can laugh about it when Maestro Morrison keeps his ears closed at the sight of his trumpet playing. If you add the album title to it, you almost think you are dealing with a latently tiresome piece of work, but you could hardly be more wrong; on the contrary, Morrison's 39th album, the third (!) In the last seven months, comes over as very smooth and relaxed. Blues standards fit in with the longstanding back catalogue, Ray Charles's "Sticks and Stones" undergoes a highly listenable makeover, and "Every Day I Have The Blues" simply steams with relaxed playfulness. Two masters in the clinch, plus a few standards recorded in the best of moods, make this album an unrestrained club jazz classic, which derives its quality above all from the fact that two experts are at work here who do not have to prove anything more, but who know precisely what effectiveness means when it comes to arrangements.
Adamo Golán – "Exile And The New" (Kingdoms/Rough Trade)
The sound genre may sound a bit cumbersome, but for the sake of completeness it has to be quoted, bringing this albeit long-winded sound hybrid so aptly to the point: "Club-Inflected Jazz & Contemporary Composition, Ambient, and Electronic Music" is the magic word. The man to whom this is attributed is called Adamo Golán, behind which lies the German/Briton, Laurens A. Schmidt, here celebrating his debut. The sound that Golán / Schmidt depicts is as dazzling as it is appealing. The intertwining tracks sound like the experimental soundtrack to an impressionistic black-and-white movie, over which industrial settings then ominously waft. The opener "Fis", on the other hand, sounds almost conciliatory in its naturalism. "Lie To Me" is like a rainy greeting, enchanted and mysterious and reminiscent of Satie and Päärt, whose harmonic shifts would certainly have done credit in the style of Massive Attack too. On top of that, there are field recordings and classical piano, as well as rough guitar sounds and ambient. It's a debut that soothes and takes on a whole power of its own, displaying a nostalgic charm.
Jon Hopkins – "Singularity" (Domino)
Jon Hopkins started out as a keyboardist for Imogen Heap before later making a name for himself as a musical collaborator for greats such as David Holmes, Coldplay or Brian Eno. Great scores also decorate his portfolio. For more than a decade, the legendary Domino label has become his musical home, and it is just the backdrop for a free spirit like Hopkins, who is always ready to explore new ground with his music. Five years have passed since "Immunity" (nominated for the Mercury Prize, among others) came out; now the successor finally follows. "Singularity" does not even move that far away from its predecessor. Scratchy sound effects (like nails on a blackboard) are on an equal footing with catchy, spherical soundscapes and the beats are dead straight, only to be broken up by jump cuts the next moment. Songs like "Emerald Rush" are organically stamped techno, by turns stubborn like Aphex Twin and then the next instant almost naïvely melodic like the unforgotten Robert Miles. It almost seems as if Hopkins wants to let the entire dance machine off the leash with the next album. Let's hope it does not take another five years.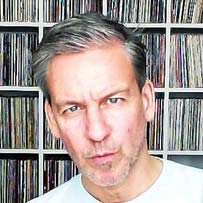 On my turntable
Ingo Scheel – Ibiza Style Music Editor
Liam Gallagher – "As You Were"
As an Oasis fan of the old school, you always end up with the solo output of the quarrelsome brothers. Noel may be more focused, more sustainable, but Liam's blueprints of the old Classics have an undeniably nostalgic appeal.
Urge Overkill – "Saturation"
My freshly started radio show on Byte.FM needs preparation. The second installment of "Flashback" is all about Chicago's best-dressed band and their formidable 1993 album.
Kvelertak – "Meir"
My favourite metal band actually paid a visit to my old home in Kiel and the party was a hit. The upshot: new band t-shirts at last, as well as frequent playing of the hits from the first three albums.
Gaz Coombes – "World's Strongest Man"
His third album as a soloist is once again a great success. The ex-Supergrass singer convinces with superb, idiosyncratic sounds and beguiling songs.
The Who – "Who's Next"
Having pulled it down off the shelf without much thought on Father's Day, I played it only to be left once again speechless when faced with so much class and full-on, all-time classics. What a mammoth piece of work from a mammoth band.