Diplo – "California"  (Becaus Music/Caroline)
Finally, something new from Wesley Penz. Wesley who? Admittedly, everyone knows the man from Tupelo, Mississippi only by his stage name, Diplo, and as such he has made a huge name for himself, as well as part of the project Major Lazer. As one of the most sought-after producers of our time he has worked together with acts such as Beyoncé and Justin Bieber, Madonna, Ariana Grande and Bruno Mars, Britney Spears, M.I.A. and many others. Furthermore, he is constantly on tour, with his most recent travels taking him to Pakistan, Brazil, Nepal, China, Mexico and Korea, just to name a few. After the highly acclaimed Major Lazer documentary, "Give Me Future", which was filmed around a show in Havana with 400,000 spectators, now with "California" there is the first major Diplo release in five years. The six new tracks complete the first cycle of his career as the reference to his début, Florida, is as visible as it is audible. The collaborators are also self-referential and dazzling.  Old companions are joined here by new voices: Lil Xan, Trippie Redd and DRAM are to be found alongside Lil Yachty, Desiigner, Santigold, Goldlink and MØ. As usual, it's brilliant!
DJ Koze – "Knock Knock"  (Pampa/Rough Trade)
His fans from the very beginning still know Stefan Kozalla aka DJ Koze as part of the crazy Hip-Hop combo Fischmob, whose albums such as "Männer können seine Gefühle nicht zeigen" remain classics worthy of cult worship to this day. Their times are over, but Koze is still working flat out in his idiosyncratic, versatile way. Recently, he caused a sensation with Amygdala. Now, with Knock Knock, he is rapping on the doors and ears of his listeners. The guest list alone reads at least as prominently as its predecessor: Roisin Murphy and Sophia Kennedy are there, Speech from Arrested Development, José González and Bon Iver. As usual, with DJ Koze there is nothing that isn't there. The self-confident crooner—this time shielded by a chip bonnet—knows practically no limits. "Seeing Aliens" cheeps somewhat like an emergency call from outer space, before it finally dissolves—finger snapping and buzzing—into a completely earthly groover. The arrangements are scarcely noticeable and yet as agile as mercury – it makes the Flensburger faster than anyone. Always a touch eccentric but also irrefutably focused – that's the timeless formula of DJ Koze.
Nina Simone – "Mood Indigo"   (BMG/Warner)
She is and remains one of the great, mysterious and ever beguiling personalities of jazz, even now, a decade and a half after her death: the one and only Nina Simone.  Now Mood Indigo (The Complete Bethlehem Singles) is once again a total classic. Lovingly curated and carefully remastered legendary pearls are compiled here. The occasion is the 60th anniversary of her first recordings and, what's more, the American jazz and blues singer, pianist and songwriter—who died in 2003 at the age of 70—has at last been accepted into the Rock and Roll Hall of Fame.  Mood Indigo follows her releases in their original chronological order: From the début "I Loves You, Porgy" and the B-side "Love Me Or Leave Me" to the legendary "My Baby Just Cares For Me" The superbly compiled song collection is rounded out by rare versions of singles and an alternative version of "He's Got The Whole World In His Hands", a 24-page booklet with liner notes by Ashley Kahn and a great single replica. It's a highly listenable journey back to the beginnings of one of the greatest, most contradictory as well as highly talented female artists of our time.
JB Dunckel – "H+" Smi Col/Sony)
Please put up your hand anyone who is as desperate for a new album from Air as the person writing these lines! Seriously: If there are two great acts from France whose new records are long overdue, then it's Daft Punk on one hand and Air on the other.  At least from the storeroom of the latter, there is now something all the more comforting and sweetening for the wait. Jean-Benoît Dunckel, also active under the pseudonym Darkel, really does not challenge the Air-inclined fan too much since his pop gems sound very characteristic of the airy duo. They're spherical soundscapes and summery grooves, often only hinted at and very delicately played out, over which Dunckel's sometimes rather strange little voice combines 'La Boum' naivety and French-accented school English to create an easy listening picnic. You don't expect a revolution and anyone who is looking for the maker of the dark side of "Moon Safari" isn't going to find it. Instead, tracks like "Hold On", "Qwartz" or "Ballad non Sense" sound unmistakably Francophile, sun-drenched and très relaxant.
MGMT – "Little Dark Age" (Smi Col/Sony)
There are thoroughly competent pop professors who nowadays consider MGMT to be the more contemporary Pet Shop Boys. In terms of melodies, emotions and synthpop approach that may be true. However, where Tennant & Lowe have spent three decades continuously incorporating the notion of stage through video to philosophy into their concept, MGMT seems to be more free-spirited, more eccentric or, as they themselves put it: "When you're high, you don't have to know why." More than ten years have already passed since the breakthrough opus "Oracular Spectacular", yet "Little Dark Age"—the New Yorkers' fifth studio album in total—now effortlessly resumes where they left off, extending the sound palette in moderation. "Me & Michael", for example, is crystal-clear '80s material and the opener, "She Works Out Too Much", also comes over like a spaceship from the era of MTV: highly melodic, tongue in cheek, yet profound and discreetly nostalgic. So the Middle Ages conjured up by MGMT in the album title are nowhere near so dark; on the contrary, Melancholy is perfectly compatible here with catchy tunes of the most irresistible kind.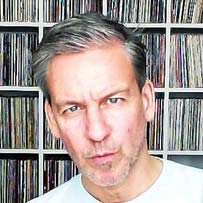 On my turntable
Ingo Scheel – Ibiza Style Music Editor
Insterburg – "Lasst uns unsern Apfelbaum"
New season, new happiness and Anni is of course at the forefront again. Today, the first two spins here are going on her account. On one hand, the unforgotten authority on humour, Insterburg & Co., whose weird couplets and barbershop songs with off-the-wall 60s / 70s humour are the first thing my daughter sings while getting up.
Ideal – "Bi Nuu"
And the same goes for this one: For a long time I was lacking (apologies) the third album by the Berlin New German Wave legends. Now the gap in the collection has been filled at last. And it sounds quite splendid and almost irritatingly timeless.
My Bloody Valentine – "Isn't Anything"
Just when I thought that the Roskilde line-up was still a bit weak in the chest for my personal taste, the shoegazer legends suddenly belong to the next wave of bands. Never seen, but frequently heard – I'm looking forward to the closing of this concert gap.
Svartanatt – "Starry Eagle Eye"
This is something the Swedes can do like hardly any other music nation:
classic-style hard rock somewhere along the lines of Thin Lizzy, Blue Öyster Cult and CCR: a great album.
Daft Punk – "Discovery"
I recently heard in passing "Get Lucky" and thought to myself: It's about time they brought out a new album again. Until that's so, I can always reconnect with a classic again, the keyword here being rediscovery. And "One More Time" can definitely handle one or two dozen more listens with me.