Dinosaur jr – "Give a Glimpse of what yer not" (Jagjaguwar)
For more than a decade, Dinosaur Jr. have been active again in the here and now in their legendary founding line-up. Not only is the trio thus more consistent over time than in the pioneering days of the late 80s, but with album number four the scales tip in favour of the present in terms of output too. The memory is loud and clear: with their self-titled broadside of a musical début, "You're living all over me", and the brilliant stroke of songwriting genius, "Bug", J. Mascis, Murph and Lou Barlow cemented a monumental indie rock work which ought to influence all subsequent generations. After a long separation, the reunion came about in 2005 and since then the trio has brought out one convincing album after another.  So, what makes "Give a Glimpse…" different from its three predecessors? The already high level has climbed a new notch with songs like "Tiny", the rocking "Goin Down" or the delicately-sad "Be a Part" ranking among the very best that Dinosaur Jr. have ever brought to the people. If only everything in life could be as simple as the loosely reliable smoothness with which Mascis gilds his solos.
Beginner – "Advanced Chemistry" (Vertigo)
Beginner are back: One of the biggest, most successful and most influential hip-hop acts made in Germany are back with a new album. Over 20 years ago, when they still went by the name of Absolute Beginner, the guys from Hamburg (or to be more precise from 'Eimsbush', as they called their 'Bronx' Eimsbüttel) belonged to the spearhead of ultra-trendy rap in this country. Songs such as "Liebes Lied" or "Hammerhart" have become real classics. Following the album "Blast Action Heroes", the Beginners' activities as a band slowly tailed off in favour of solo careers, at the forefront of which was, of course, Jan Delay. First came the live comeback in 2011. Then, in June of this year, came "Ahnma", the acclaimed single. Now there's "Advanced Chemistry", a comeback album which takes its name from the legendary hip-hop group from Heidelberg. It offers not only the usual multi-layered tracks, but also lots of guest stars such as Gzuz, Megaloh and Samy Deluxe. And, with Dendemann, also one of the best rappers, whose legendary duo, EinsZwo, (one hears rumours) could be about to stage the next big reunion thing.
Led Zeppelin – "The Complete BBC Sessions" (Atlantic/Swan Song)
Granted – the last few years haven't been exactly quiet when it comes to Led Zeppelin. The by now rightfully celebrated remastered versions of all their albums—elaborately reworked and supplemented under the aegis of mastermind, Jimmy Page—have become a gigantic, media-accompanied success. But anyone who thought that that really was the last word when it came to all things Zep is fooling themselves. Unfortunately, that doesn't mean there's a reunion in the offing; that appears more than ever in the distant future. No, this time the focus is on, among others, the long-believed lost BBC sessions from 1969; ones that have attained an almost mythical status among fans. Among the gems here are the only ever recorded performance of "Sunshine Woman" and versions of "Communication Breakdown" and "What Is And What Should Never Be". In an interview in Guitar World, Jimmy Page said: "The 'BBC Sessions' show in graphic detail just how organic the group was".  "LED ZEPPELIN was a band that would change things around substantially each time it played… We were becoming tighter and tighter, to the point of telepathy." You can, however, keep secretly dreaming of a reunion.
Kontor Top of the Clubs – "Vol. 71" ( Kontor Records/Edel)
It's a number that you should let melt in your mouth: 71. In words: seventy one. We've now reached that many releases of what is one of, if not THE most legendary dance compilations of all. Every three months, the Kontor label presents the latest tracks, the hottest tips, the best horses in the stable on three CDs. 60 club hits are, of course, once again represented, including some previously unpublished, exclusive tracks. All of it boiled down into one rich DJ mix that has emerged this time at the hands of residents, Markus Gardeweg and Jerome, ably assisted by HouseKaspeR. Together there's a whopping four hours of dance music including Robin Schulz feat. Akon with the HUGEL remix of "Heatwave", Swanky Tunes & Going Deeper with "Drownin", the one and only Scooter with "Mary Got no Lamb" and the dance-floor rousing "Don't Let Me Down" by The Chainsmokers feat. Daya. That number again? You're welcome: 71.
Roisin Murphy – "Take Her up to Monto" (PIAS/Rough Trade)
She is, and remains, the most unconventional, ambitious and fearless dance floor philosopher around nowadays: up until 2002 Roisin Murphy performed her very own version of the thinking man's dance floor music as part of the brilliant Moloko, setting down in pop history such stone classics as "The time is now" or "Sing it back". For a long time, the Irish singer has also been acknowledged as a solo artist, garnering as much praise as she did when playing with the band. Her latest release is called "Take her up to Monto" and the title refers to an old Dubliners' song in which they sang about the city's red light district. On first hearing she is a long way away from such traditional roots; however, stylistic boundaries are as thoroughly alien to this singer as ever. In "Pretty Gardens" she swirls through green spaces, "Thoughts Wasted" sounds like PJ Harvey on a melancholic evening in 80s disco and "Lip Service" suddenly comes round the corner with a rumba from Señor Coconut's trunk of 7" singles. "Ten Miles High" sounds like a warped version of The Human League from their "Travelogue" era. Anything but boring and conventional: it's a maxim to which Roisin stays casually true, while never sounding strained or artistically pompous. A super album for disco explorers.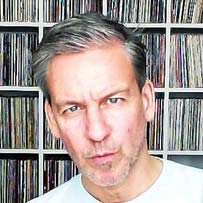 On my turntable
Ingo Scheel – Ibiza Style Music Editor
Space Echo – Various Artists
This is a journey into sound. Awesome old school synth sounds – the cosmic sound from Cape Verde.
The Dickies – "Dawn of the Dickies"
What a rediscovery!  The original fathers of pop punk with a master stroke from 1980.
Beastie Boys – "Sabotage"
Quite simply, one of the classics. God, how we miss the Beastie Boys…
Mudhoney – "Every Good Boy deserves Fudge"
The forefathers of grunge recently played in the club in my neighbourhood. And what a splendid night it was.
Kvelertak – "Ordsmedar av rang"
The Norwegians did the honours in Hamburg once more, including new T-shirts. And this time with my all-time fave on the set list. Loved it!