Customers should feel like they are immersed in an experience that satisfies all their senses – that is the aim of the small perfectly formed team behind Cana Pepeta.
The restaurant prides itself on being sustainable, and that means using the best quality local produce. The chef only uses seasonable vegetables — 95% are organic and grown on the island. Some fruit comes from the owner's orchard, when the time of the year is right, and lamb comes from the neighbouring house that has sheep. Their chicken is free range and reared in Ibiza, and eggs are supplied by the only organic producer on the island. The fish is never more than three days from sea to plate, most locally caught.
The jewel in the crown of Cana Pepeta is perhaps their top of the range kitchen facilities. Chef, Francisco Guzmán, uses a Josper oven and two grills, which reaches constant temperatures using South American charcoal — Iberian oak, and island pine wood, au natural.
The key formula is quality ingredients, the right chef, plus the Josper which cooks things perfectly.
Francisco says his favourite dish to cook is the Lubina – because it is "perfect in every way".
Dishes on the menu range from various fish and shellfish options (including fish of the day) to chicken and three different kind of beef; Danish Swami, Basque Country T-Bone which is aged for 45 days, and from Italy, Sakura Hanami. More vegan options are being considered.
We sampled just a few of the delights from the menu — melt in your mouth red prawns followed by salmon fillet, and a low loin Black Angus steak. Accompanied by roasted vegetables — all from the grill. Plus the most amazing creamed cauliflower that felt like satin in your mouth — and sweet potatoes. To finish, the chef's own version of Creme Catalana (served in a martini glass).
Parts of the pleasure is in the simplicity of sitting outdoors surrounded by nature — with the odd four-legged friend joining their owners — enjoying the delights of Francisco and his team's work. Cana Pepeta welcomes all, and looking around a broad clientele is very much in evidence.
Some might be drinking a €600 bottle of wine, others a much more modest selection which range from €25, with the average spend per head being between €65 to €75 for a meal.
The professional but close-knit team at the restaurant recognise the venue is always evolving, whether it be the plants that sit nestled between the tables, or the forever expanding wine list.
Morgan, the general manager, and colleagues who we met including Anna, Yuma, make for a relaxed team and definitely seem to enjoy being at work. Anna describes it like being a "little family" since it opened 3 years ago.
Behind the restaurant sits a stunning art gallery — a visual feast which Tota Fairno helps curate. It allows guests to "immerse themselves in culture" with a selection of pieces from Leonhard's Art galley in Antwerp, Belgium.
Also in the coming months a new introduction of a bookshop is in the pipeline —featuring classic literature and modern classics along with some non-fiction and coffee table books.
Between July 15th and end of August there will be a pop-up vintage clothing shop.
In the forever evolving venue, a new garden area allowing customers to sit and dine under a beautiful mulberry tree is also in the planning.
As summer progresses you might be lucky enough to enjoy entertainment by much revered singer and guitarist Paul Powell, or Cuban music icon Norberto Guerra.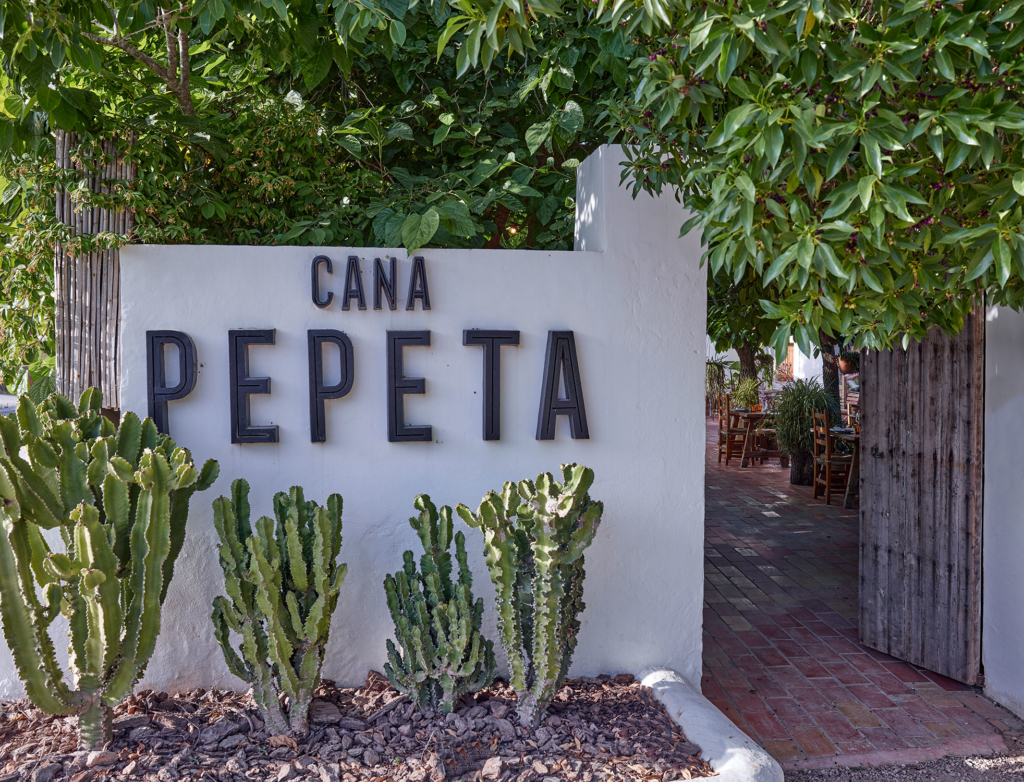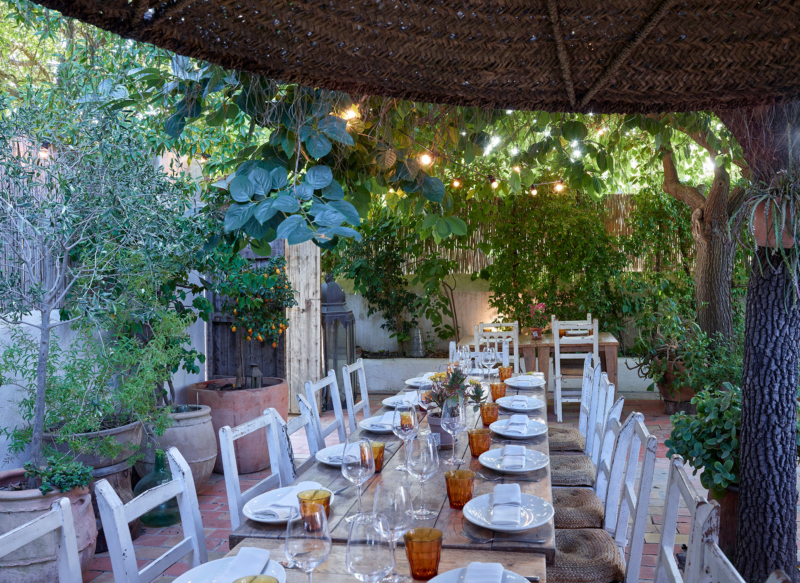 Cana Pepeta
Crta Sant Joan 15, 400
07812 Sant Llorenc de Balafia