"I first came to Ibiza in 1974, to Ku, with Pedro Subijana.  I liked it so much that I have never missed one single month of June since then". Juan Mari Arzak is unequivocal (holder of the National Gastronomy Prize as the best chef and for the best restaurant, a third star from the Michelin guide, Gran Premio del Arte de la Cocina as best chef in Europe from the Academia Europea de Gastronomía, and best  restaurant in Spain from the Revista Club de Gourmets). Friendly, accessible, chatty and always ready to share a joke, this native of San Sebastian continues to exude good spirits and, in spite of having a full agenda every time that he comes to Ibiza, he always has time for each and every one of his friends. And there are a lot of them. One of them is Juanito from Can Alfredo. "Arzak is simplicity personified. Our roots are similar: his parents and mine began with a very small tavern and a great deal of sacrifice", Juanito explains. When Arzak arrives on the island the first place that he goes to is Can Alfredo where he finds "genuine Ibizan cuisine, both elaborate and straightforward".
Arzak, or Juan Mari, as he likes to be called, assures you that he has learned a lot in Ibiza, for example, about seasoning dishes. Being, as he is, one of the best and most famous chefs on the planet he is always ready to go on learning. In order to become a great chef Juan Mari says that you attain distinction through a combination of good catering schools and having passion. "But to be outstanding, you have to have all of the above and, in addition, to have been born to cook". The most difficult thing, he states, is that a chef must know how to give something the final touch "because I can show you a recipe but when I say: now finish it off, that's something that comes down to each person". It's something that can't be taught.
Arzak considers Ibiza to be an island "beyond the normal parameters, with a special halo". When it comes to local gastronomy, he believes that "they eat very well here". A handful of essential native foodstuffs would be garlic, parsley, olive oil, aromatic herbs, tomato and onion. For Juan Mari, the scent of Ibiza is herbs and seaweed. The chef has a collection of more than 1,600 aromas from all over the world.  From Ibiza he has amassed around 100 (those of thyme, laurel, seaweed, mint…). He still believes that raó – caught in Ibiza and Formentera – is the best fish in the world, "the medium-sized one of which you eat everything including the intestines and the bones. You could say that it's our anchovy, it should be eaten fresh, on the same day it's caught". Nevertheless, his favourite dish, "the one I like best in the whole world", is fried eggs with red peppers.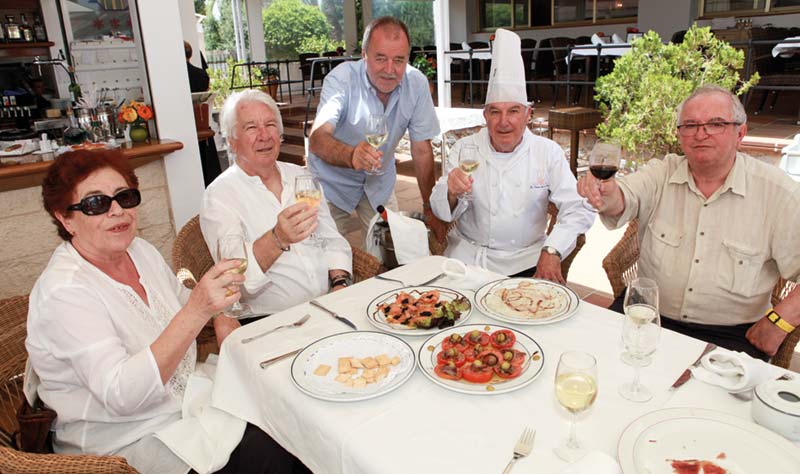 Arzak is a great defender of local foodstuffs, "the cuisine of the market, locally sourced, as they say now…is that which uses the produce of the native soil. I only use local produce even though you can always add seasoning.  You mustn't lose your identity although it's ok to travel around, discover other flavours and evolve", he asserts.
In the Arzak family, cuisine is not something that has always been experienced from on high. "My mother, who was born in a tiny hamlet, used to tell me that it was about using the imagination; that starting out with nothing we had to prevent the family from going hungry", he says.  And the saga continues, in this case, with Elena Arzak, Juan Mari's daughter, recently chosen best chef in the world.  "She is a very straightforward person: she was given the award and when my daughter started out in the restaurant 15 years ago, she began with washing the dishes. She wanted to know how to do the job from the bottom up". So closely do they work that you can't speak of the cuisine of Juan Mari or that of Elena, but rather of Arzak cuisine, he maintains.
Within the world of the great chefs rivalry doesn't exist, he says. In fact, his friendship with other greats such as Ferrán Adrià, Karlos Arguiñano, etc is well known…"When we started Basque nouveau cuisine there wasn't any rivalry or competition. What is more, when you get on well with your companions everything is easier. Being egotistic shows a lack of culture. After all, "let's not forget, we're just cooks!" he adds.
He assures me that his haute cuisine restaurant in San Sebastián has more middle-income clients than high-end ones. "In San Sebastián there exists a love of food and people save up in order to be able to come to my place and dine. On the other hand, those with a high disposable income might be able to come more often but there are far fewer of them".
To get where he is now, Arzak tells us his secret: firstly, you have to see the world through a cook's eyes; secondly, you have to be capable of being amazed and to remain humble; and thirdly, to be able to think like a child.
And a tip from Arzak: after partying hard anywhere on the island, the ideal meal to recover is a bowl of hot soup, oven-cooked fish with some potatoes and, now that you've got going, a lobster such as you find in Moli de Sal in Formentera. It's like in the Sanfermin bull-running festival, he adds, "In Ibiza, with all the parties, there's nothing better when you wake up than having a nice glass of vermouth".