I could feel the tension rising as I was waiting for my connecting flight to Ibiza at Palma de Mallorca Airport. I began to wonder whether my visit with a donation of food in my luggage for DUO dogs' home on behalf of Ibiza Style – the most popular magazine on the island – was even remotely newsworthy. After all, to me the island – just like Ibiza Style Magazine – symbolizes a jet set lifestyle, decadence and partying of course. To be honest, I felt a bit small.
The moment I arrived in Ibiza its tropical heat embraced me by way of a greeting. Since I spent much of my childhood in Homestead, Florida this familiar climate instantly awoke fond memories in me giving me the feeling I was back home again. Nonetheless, uncertainty and nervousness followed me around like a shadow in the sunlight. In no time I was at the hotel – all dolled up – in the hope of fitting in with the island's style. I was still unaware of the criteria by which I had been invited to this shoot.
When I got to marc's restaurant Jürgen Bushe – the magazine's publisher – welcomed me with a glass of champagne at the bar. Any stress I might have had was immediately dispelled by the open, cordial way he greeted me, to be replaced by a feeling of relief. "It's as if I have been here with him umpteen times," I thought to myself.
But then how could it have been otherwise when it turned out that the owner of the restaurant – Marc Lindemann – comes from Hannover, just like me. The three of us got on like a house on fire right from the start. Marc had prepared a vegan dish especially for me, a scrumptious dessert – also vegan – and a coffee with soya milk. It's like a dream, I thought to myself. After this evening of outstanding cuisine in such good company I slept like a log in my beautiful room at Ibiza Grand Hotel.
On the second day we set off for our first shoot at full steam – something that Jürgen apparently finds quite normal. "Boy, oh boy" I said to myself, "you and your big mouth!" Because when he asked me the day before if I'm also interested in polo, I'd enthusiastically replied after a few glasses of wine, "Yes, very much, I've even played polo occasionally." However, I had forgotten to mention that it was a few years ago, in 2008 – when I was on holiday in Argentina with my erstwhile great love, a polo player – and I only played with children and young people from the village's polo club.
However, when Gabriel Iglesias, an Argentinean polo player with a four goal handicap led me onto the field as if I were an experienced player I realized that I still hadn't forgotten this passion for the saddle from five years ago. I gave it everything I'd been taught in Argentina. I would have gone on playing all day if the heat hadn't been so merciless. What could possibly be better than a day of rugby on horseback?
The fifth and sadly final day was my personal highlight of the week.
First of all, we went to a wonderfully pretty park where I tried to go for a walk with four splendid podencos. On the way there I'd already discovered them in the form of a sculpture on an island in the middle of a roundabout. They seem to be the pride of Ibiza. Actually, I'm really skilled with dogs and also quite strong, since I also ride my two horses with my left and right hands, but these four whirlwinds took me – and not the other way round – for a walk. It was wickedly funny, especially for the people watching because I got all knotted up in the leads and almost fell over.
After that we went to see Christiane at DUO dog home.
My pallet with 300 kilos of dog food was gratefully accepted and 75 dogs began scampering and jumping for joy all around me, as if wanting to say thanks. I really fell for two dogs in particular. Caramelo (I christened him Tintin) and Pluto. I adopted Tintin and took him straight back home. As dogs are not allowed in hotels in Ibiza, regardless of how much extra you offer, I spent the night with Tintin in the rental car. Now he's got a nice life with me and my other animals in Germany. More than two years ago he was found in a rubbish container. How sad that on the one hand, a breed of dog is symbolic of an island, while on the other hand dogs that aren't pure-bred are disposed of as waste.
In a few weeks I'll be back on the island, with a vegan cake as a thank you for Jürgen Bushe and a further donation of dog food for DUO because the one I brought is only going to last for three weeks. And once again I'm not going to be flying back alone. Pluto – who they tried to drown in the pool when he was a puppy – is going to accompany me. His permanent place in my heart is already assured. Soon he will have a home of his own, along with medical care since he's got leishmaniasis.
Along with cute Struppi, aching muscles in my right arm from polo and a touch of sunburn, what I'm also taking back from the island are wonderful moments and photos of Ibiza's beauty. Unfortunately, I'm also left with the sad feeling that comes from seeing how pitiless people can be to animals.
Thank you Ibiza for your light and for your shadow. And thank you Ibiza Style for the nostalgia I now feel.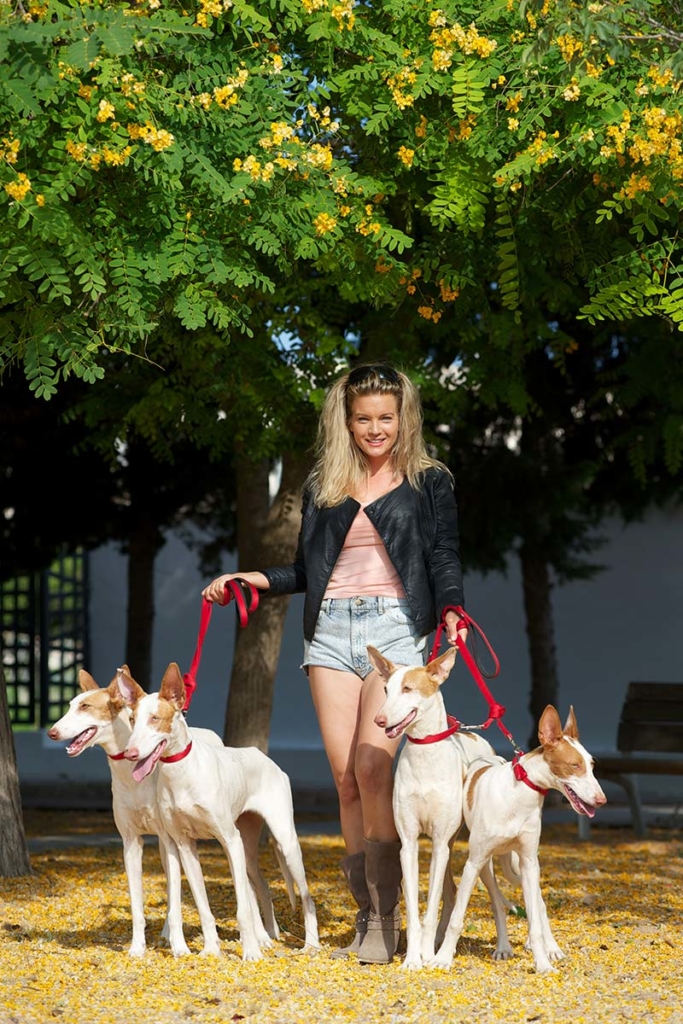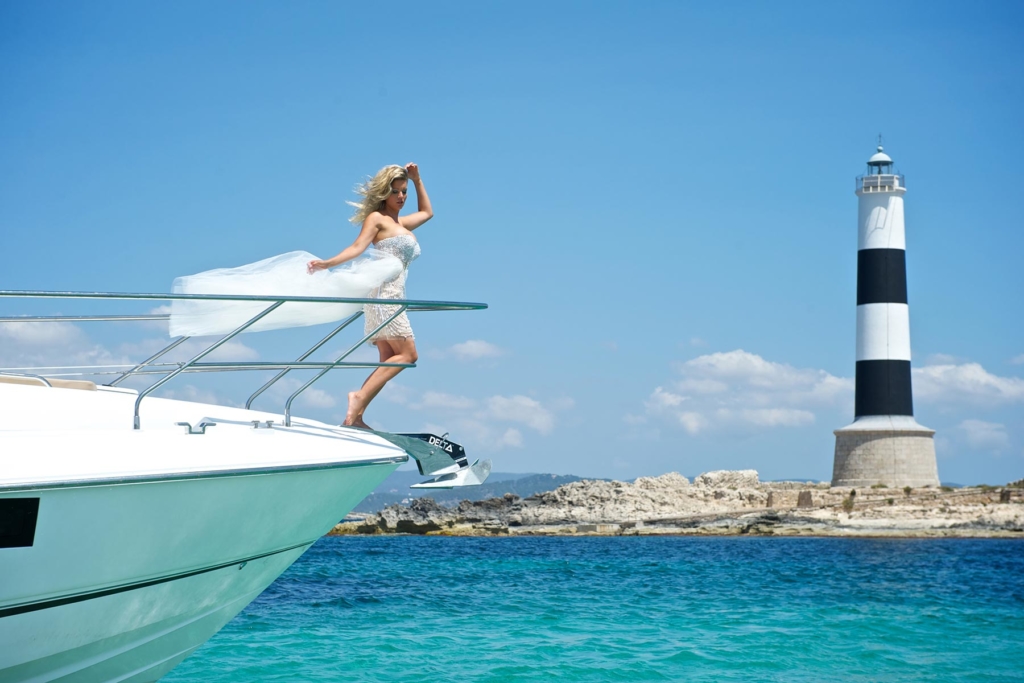 ---
Special thanks go to Marc Schmid from Fairline Ibiza who made a brand new Fairline Targa 38 available to us for the photo shoot and who was our personal skipper on a fast-paced trip to Formentera. He started the powerful Volvo Penta engines up and immediately set off at a speed of over 40 knots in the direction of Espalmador where the Far d'en Pou lighthouse and the crystal-clear turquoise waters formed the backdrop for our photo session. Through the Targa 38's large windows we had a superb panoramic view. We were particularly impressed by the submersible bathing platform from which we were able to really enjoy the water after the photo shoot.
Katharina Kuhlmann
Entrepreneur, producer, author, presenter and model
PETA activist and Vegan Society ambassador, author of children's books and blogger
KK COLORS and KK COCOON Director of sales and development of design and effect paints and related lacquered films for the automotive sector
Presenter and protagonist for the automotive TV formats: Tuning TV (DSF), Motor vision (SKY), 
 Automobil (VOX), Supercars Exposed (USA: FOX), Axe Pimps you up (Switzerland: MTV), "the Car Maniac (SPORT .1), Poker Player of the Year (SPORT.1), "Turbo Top10" and "Turbo girls weekend" (SPORT.1)
Kuhlmann Productions: The Car Maniac (quiz show, SPORT.1) producer and presenter.
Katharina graced the cover of famous men's magazines (Playboy 2007 & FHM 2011). In the special Playboy magazine "Playboy Special Edition Stars Vol.2" she was among the "55 most beautiful Playboy stars in the world" in 2012. In 2012 readers of the men's magazine FHM voted Katharina number 43 among the "100 sexiest women in the world."
Katharina is currently working on her first children's book "Mona & Frida." The story tells of a little girl named Frida, who together with her talking pet pig Mona, turns the entire village upside down.
On her blog www.kathi-backt.de or www.kathi-kocht.de you can find her vegan cooking and baking recipes as well as order baked vegan cakes online from her.
More informations: www.katharina-kuhlmann.com
---
CREDITS
Photographer: David Poole, Steve Poole
Stylist: Anna Castán www.annacastan.com
1 look Formentera: White dress with tull and strass – Frontline Urban
2 look Formentera: Black dress with tacks – Frontline Urban
3 look Tiburon: Bikini nude-colored: Red Point; mini skirt: Glamorous
4 look Gran Hotel: Black dress: Versace; necklace Vintage
5 look Casino: Red silk dress: Giorgio Armani
6 look marc's: Dress nude-colored
7 look marc's: Dress black lace: D&G
Special thanks to Frontline Urban C/Vicent Ramón Bartolomeu, 13