S
arah Harding brought suitcases full of amazing clothes and swimwear with her to Ibiza. We arranged a photo shoot with the singer of the girl band Girls Aloud especially for Ibiza Style with the photographer, Anders Brogaard. Girls Aloud decided to take a break so they would have time for their own individual projects. Sarah decided to persue her acting career. She has shot four films, 'Bad Day', 'Freefall', 'St. Trinian's (2)' and 'Run For Your Wife'. In addition she has been working in the studio on a solo album which will be released in 2013.
Sarah Harding about…
Her new Tattoo:
I love body art and I've recently had three new tattoos.
High heels:
High heels are my fetish! Well high heels and sunglasses, I must have
over fifty pairs of high heels in my closet and I can't foresee me ever
tiring of them. No matter how I feel, when I slip a beautiful pair of
heels on I automatically feel more feminine and ready to take on the
world.
Her new solo album:
I've been writing and experimenting with different sounds in the studio.
Music is my first love and while I can't really say more at the moment,
what I will say is that it's a very exciting time.
Her first Ibiza experience:
I first came to Ibiza five years ago with a huge group of friends,
needless to say I fell in love with the island within days of being here.
It has something to offer every type of person and I'm hoping to have my
very own place here in the near future.
What it is that makes Ibiza so special:
What makes Ibiza so special is the amazing atmosphere, the people, the
weather, the old town, the nightlife and the beaches. Ibiza has a special
spiritual energy which I can't even begin to explain, but if you're
reading this in Ibiza you'll know exactly what I mean.
Night Clubs on the island:
Nothing compares to the clubs on this island. If it's going to be big
you'll see it in Ibiza first. My absolute favorite clubs include Space,
Pacha and Amnesia.
Chilling on the beach:
If I'm not chilling by the pool at my villa, I love hanging out at Blue
Marlin or Salinas. You will also find loads of beautiful hidden places/
beaches if you explore the island a little. Café Mambo is great for
chilling while watching the sunset, and the music isn't too bad either.
Yummy food in Ibiza:
There is such an amazing restaurant scene in Ibiza which is sometimes
sadly overlooked. I love going out to eat, and there are so many places in
and around Ibiza town that I love. The seafood, tapas and paella are all
amazing. Blue Marlin has great sushi and an eclectic menu in the
restaurant. If it's Asian Fusion I'm in the mood for you'll find me in
Bambuddah. Pikes do the best Sunday lunch on the island.
Essential items needed to survive in Ibiza:
My essential items when in Ibiza include: great swimwear and sandals, SPF,
a good few pairs of shades, denim shorts and Converse trainers. Lot's of
cool clothes for through the day and some great eveningwear never goes a
miss. If it's downtime you need then you can get a fantastic massage at
the spa in the Atzaro Hotel.
The strangest thing she ever has seen/experienced on the island:
I've seen many a strange and fabulous thing in Ibiza over the years, the
shows the clubs put on are like nothing I've seen elsewhere. Something
that always makes me laugh though is the memory of a wizard-type character
manically setting off flares into the night sky!
Going by yacht from Ibiza to Formentera beach:
Going out on the yacht to Formentera was very special for me. There's a
great sense of freedom being out at sea. There are so many places to
explore and if you're lucky you might get to see some dolphins.
Formentera is beautiful and very peaceful compared to the hustle and
bustle!
---
Making of
The Ibiza Style editorial team meet up with British singer Sarah Harding for a photo shoot aboard a Fairline Targa 50
A thoroughbred yacht, a seasoned skipper and the unique Pitiusan coastline as a backdrop – it would be hard to imagine more perfect conditions for a photo shoot. When Marc Schmid, CEO of Fairline Yachts, was told by the editor of Ibiza Style, that British singer Sarah Harding was to be photographed for the magazine, he immediately volunteered a brand new Targa 50 to make the whole thing happen.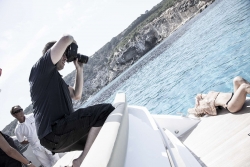 Experienced in dealing with celebrity clients who are looking for the quieter parts of the archipelago, far removed from the paparazzi and other onlookers, he first sailed the Targa 50 round to the marina to take Sarah and the photo team on board. The skipper, who knows the Pitiusan waters like the back of his hand and is totally familiar with the hi-tech aspects of this latest 50-foot model from Fairline, then set off with the Ibiza Style team and their glamorous model in the direction of Formentera. While the most popular destination for other boats that day seemed to be Ses Illetes, despite the heavy seas, Marc steered the ocean-going sports yacht into a quiet bay between Es Caló and La Mola.
Sarah, now dressed in swimwear supplied by a top British designer, began posing for internationally renowned photographer Anders Broogard. But no sooner had the photo session begun than it was rudely interrupted by paparazzi who circled the boat in their Zodiac. Marc was able to outwit them, however, by speeding off towards the now quiet Ses Illetes beach.
After the €850,000 Fairline Targa 50 had found a safe anchorage, the photographic party went onto the beach at Tiburón. The Targa 50 meanwhile stood out from other yachts at this popular spot for luxury craft by virtue of its modern styling.
The making of Video
Sarah, who has a thing about extreme high heels, wasn't going to take them off, even though she was in danger of sinking into the soft sand. Back on board, she was hugely impressed by the bathing platform that can be lowered into the sea. But soon it was time to weigh anchor and head back to the port of Ibiza at a speed of 30 knots.