Scott Gray aka Chapter didn't plan to come to Ibiza and become a hugely successful artist. He really just wanted to escape the stress of a soul-sucking job in recruitment and after waking up on holiday one morning in a cold sweat, he realised he needed to finally quit and take the first step onto the next stage of his life. "It was the kick I needed. It was in 2010, I was really stressed, I think if I'd stayed there any longer I would've gone mad."
Finally free, around six months later Scott and his wife Mandy, who he met in Space in 1997, packed up a van and headed to the little island where their affair began and where they escaped to "religiously" every year. "Every time I came here I would say to Mandy 'I dress differently, I express myself more, I'm in touch with everything." This was a huge contrast to the Scott who worked in an office and was at breaking point. "I remember sitting there, looking around the room and thinking 'what the f**k am I doing here?'"
Ironically, despite spending time here every summer he never dreamt he would one day come and live in Ibiza and be an artist. And certainly not a hugely successful one. His path until now has been something completely unplanned and organic and everything that's happening – "it's been the maddest year!" – has come as much as a surprise to him as anyone else. "I don't know why I didn't do it sooner. When I was a kid I was really into art and I wanted to draw for a living. I've always had artistic tendencies I suppose, but in the last 10 years before I came to live here, it had all pretty much grinded to a halt. Since I've come to Ibiza though the flood gates have opened. I've felt completely inspired since I came to the island. Not only it is accepted here to be as creative as you like, it's encouraged! It's celebrated! People pull it out of you." Quite a contrast then from being surrounded by four grey walls from nine to five? "Absolutely!"
A simple anniversary card for his wife decorated with a sugar skull was the click that got Scott back into art. "It was in my head – no other reason. It's very Mexican, day of the dead; this is definitely an influence." Life and death, love and violence – Scott's particular style is a montage of "things that contrast". He explains: "I love things that don't go together, things that are a bit tongue in cheek, that jar but you can make something beautiful out them. Bullets with flowers, guns with love hearts…"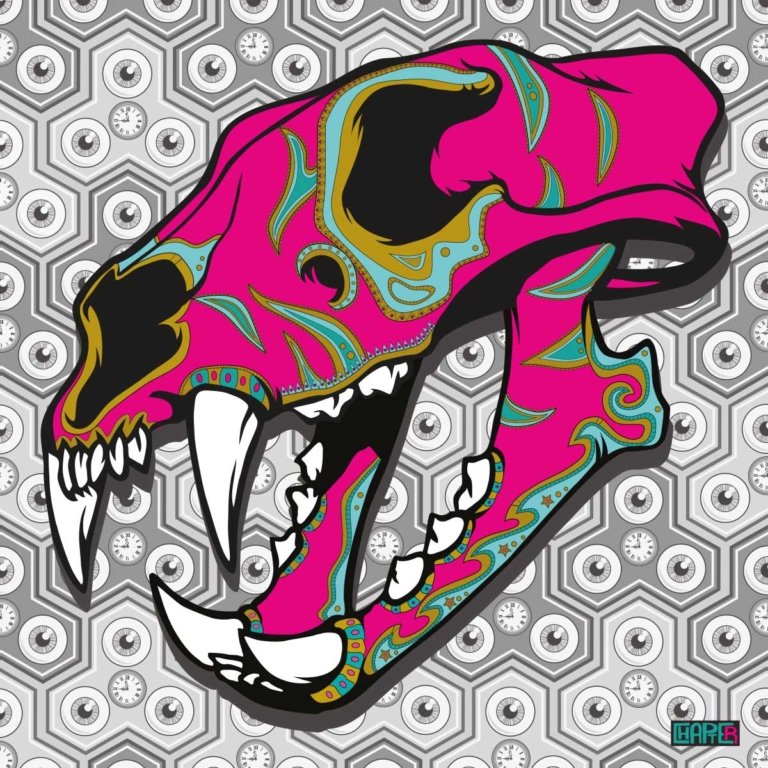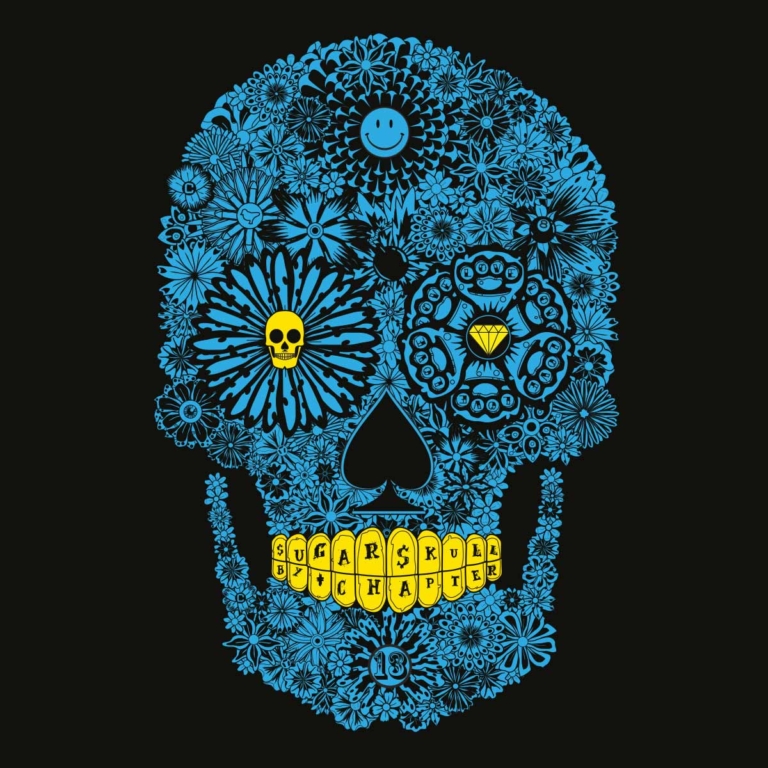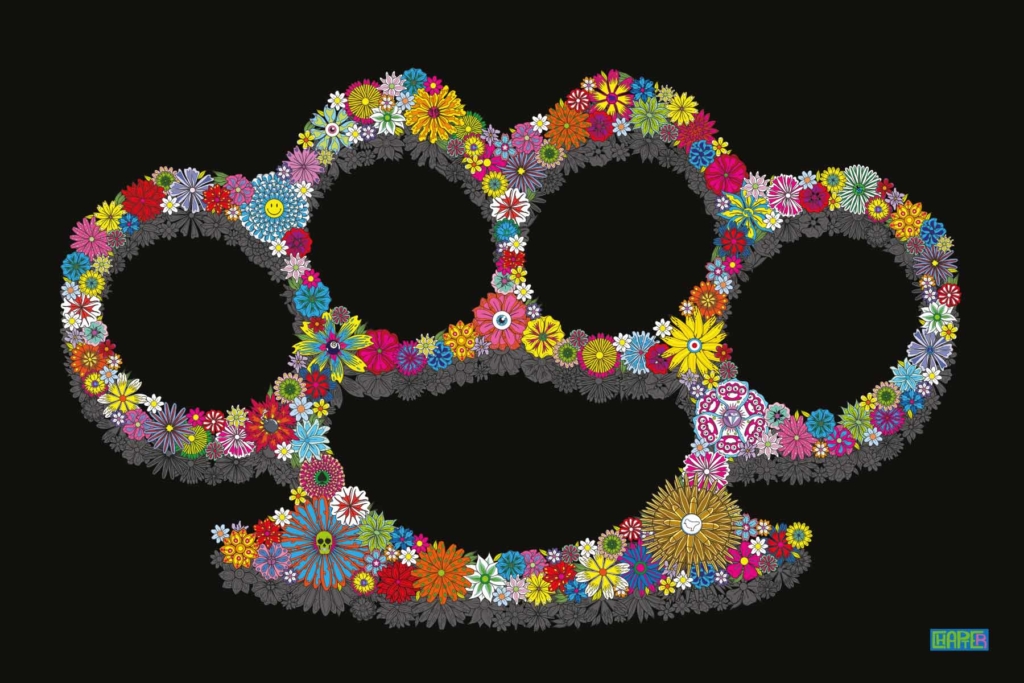 He says of this month's cover of Ibiza Style: "It's quite feminine. It's got lots of my favourite elements – and a few elements that I know Jürgen likes as well. I really enjoyed doing this." Delving a little deeper into his influences, Scott says he's always been "a little bit of a rebel". Aside from his love of Mexican culture, this polite, talented Londoner pinpoints a mixture of comic book characters, films, psychedelic images and some bad boy icons as inspiration too – although he admits there's a lot floating around his subconscious that's still revealing itself through his work.
Somebody who sticks in his mind is Bill Sienkiewicz, an artist who left a legacy. "In the 80's there was a resurgence of adult graphic novels and Bill Sienkiewicz was around at that time. He came and went! He was around for about 10 years and did some of the best characters like Wolverine, Elektra. He absolutely blew my mind. He still does, his stuff's amazing. I know that a lot of what I do is inspired by him." He lets slip that Van Gogh's another inspiration. "Bur that sounds a bit corny – don't put that in!" he laughs.
Taking his talents off the canvas, Scott's hand customised a vintage car for Ducks United and painted a room in the funky Urban Spaces hotel amongst many other things. His first order of Chapter silk scarves made in Como, Italy, sold out immediately and his fashion label which you'll only find in Echoamano (next to the car park in Salinas) is selling off the hook. Scott's already sharing his inspiration and passion with the island's creative kids at weekly art classes and unsurprisingly (due to demand) a parents' art session has started too at Laurelito, Jesus.
And his popularity's ever growing. This month he's been invited to take part in an exhibition in London to raise funds to save tigers and as you would expect, the piece he's working on (he gave us a preview) is another masterpiece of his signature pop-gothic style with a twist for the occasion. Like all truly creative souls he boasts another string to his imaginative bow – he's also a DJ. Scott will be playing his own brand of soul and funk at Ibiza Soul Week, 18-25 May in Club Punta Arabi, Es Canar alongside a line-up that soul heads are getting excited about. "I love it – although I don't really want to be known as a DJ. I'm just a big soul lover and I love to play."
Scott's still taking in the new found attention his designs have caused, but despite the fact it took him until his mid-40s to find his passion, it's very obvious he's got a long, long list of colourful surprises ahead of him and that, of course, is a story with many chapters.
Become an art collector. Start your first Chapter.
10 limited prints,numbered and signed by the artist for €95 each.
Order by email
The original artwork will be auctioned on saturday, 30th of May at 1PM at Laurelito, Carretera Cap Martinet, Jesús. The benefit will go to the AEEC cancer charity. The piece is valued at €700.