The unique life story of Ulises Braun begins on June 18, 1959 in the Argentine province of Misiones, where he was born to a Swiss couple and went to boarding school. When Ulises was twelve, the Braun family moved back to Switzerland, where he made a name for himself as an event promoter in Zurich's club scene in the early 1980s.
Barely 20 years old, he traveled to New York, where the trend-setting culture of the cult club Studio 54 would forever shape the personified free spirit. Braun says: "I stood in line for hours over the course of three days, changing my outfits, which became more extreme and sparse every night, with platform shoes and everything the makeup box had to offer – until the bouncer waved me in on the third night, annoyed. I ran past him, stood in the club – and knew immediately: This is what I want to do forever".
Meanwhile, it's summer 2022, and Ulises Braun has been the Ibizan "Concierge de la Bohème Internationale" for over forty years. A job he never applied for – he created it. The job virtually advertised itself to Ulises. Two and a half years after the pandemic had a stranglehold on the entire world society, gastronomy, in particular, is finally coming back to life. And with it, the world-famous W Hotel with its unique event concept consisting of the beach bar Chiringuito Blue, the flame-cooking restaurant La Llama and the Below Club –  a tribute to Ulises' life inspiration Studio 54.
He enthuses; "The Below Club is below the W Hotel. It's a small private club. For a hundred people, equipped with state-of-the-art sound and light system. The interior and design are modeled on Studio 54, the ceiling-high leather seats not only a visual highlight – but part of the 100% percent sound insulation. So what happens in Below stays in Below – Anything can happen, anything will happen," says the Bernese with a twinkle in his eye.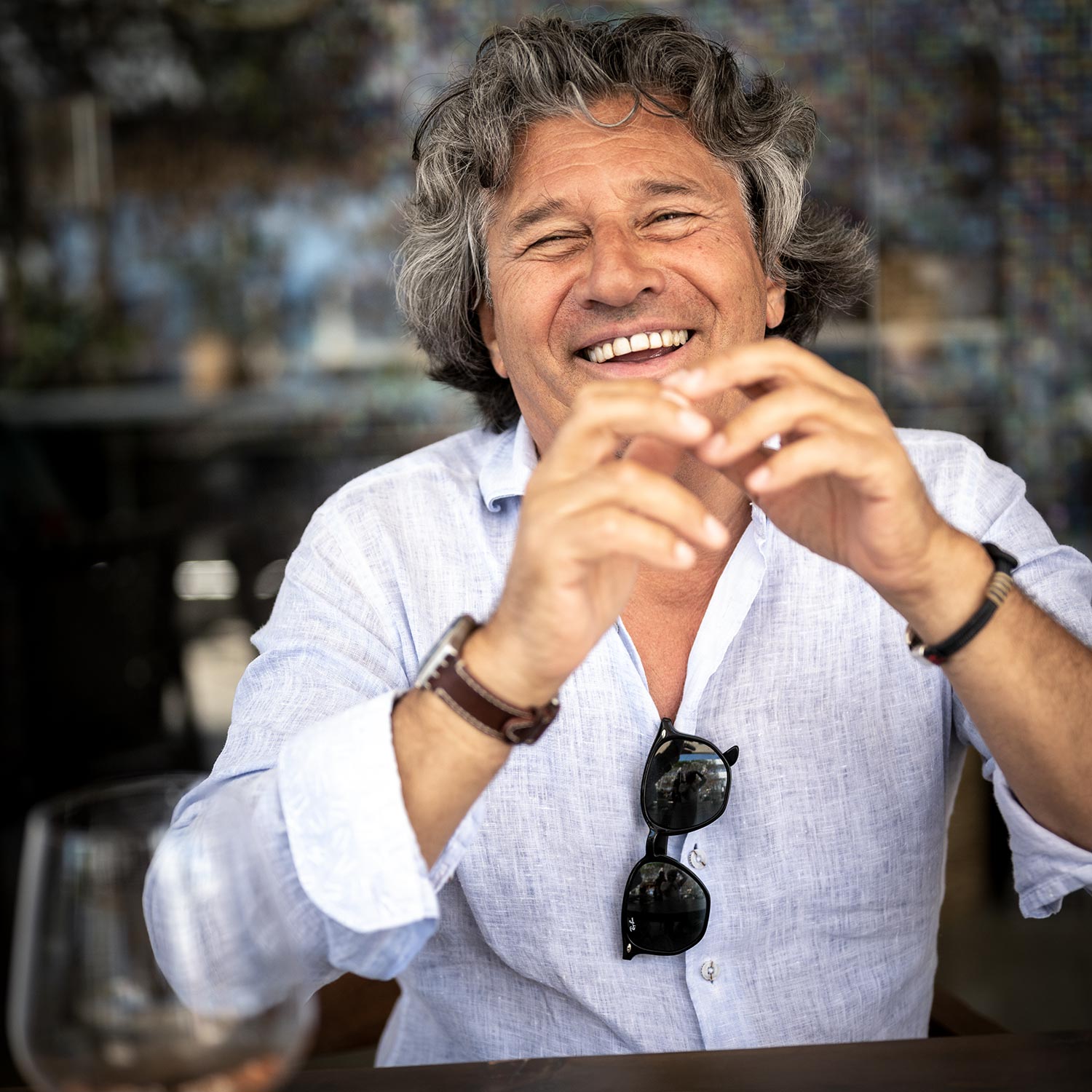 And further: "The concept motto is generally 'Behind Closed Doors – At W Hotel Ibiza'. Admission costs nothing, but we decide who comes in. We don't want a second Playa d'en Bossa. Our events have style – are sophisticated." At first glance, this clubbing experience sounds high-priced and not for everyone. The busy promoter, who also has the cell phone numbers of Johnny Depp, Kate Moss and Justin Timberlake, waves it off: "Everyone is welcome here, except chaotic people and racists. We're like Ibiza: wear what you want, but in style. Cosmopolitan, that is."
For the clubbing pioneer, house music culture, which originated in Chicago and Detroit, is "a lifestyle – a way of life." He should know, after all, he opened his own bar in the Amnesia Club in the 80s, where The Godfather of Balearic Beats, DJ Alfredo, had his residency and embalmed the incomparable sound including spirit on the island's soul. Ulises then took over as part owner of the Rock Bar on the harbor promenade of Ibiza Town and from 1989 ran for years the famous `Ibiza Reunion` bar, right next door. In which Sven Väth, Jade Jagger or Campino of the Toten Hosen went in and out. A corresponding Wall of Fame marked the walls of the cult pub.
A few years ago, Ulises, the partner of Uta Reineke, the director of a renowned real estate management company, stopped hosting parties – and deservedly took a step back for family reasons. Wasn't the goal to keep it that way?
"That's right. But Tina Turner also stopped doing concerts twice. So at least I can make a comeback. The W Hotel management people asked me if I would do my Ibiza Reunion events again five times a season. That felt good, of course – and especially in this club, which follows the spirit of my great love, Studio 54, it was clear to me that I would do it. Always on Saturdays."
We were there at the opening of the club, the premiere of Ibiza Reunion on May 6, 2022 – and the event delivered what Ulises promised. There was that free spirit in the air that he embodies. And it really had something of Studio 54 about it. You could tell that he had absorbed this lifestyle with skin and hair and never let it go. There were Grace Jones-brand Amazons and alien-like island icons dancing with celebrities – a whiff of bohemian was in the air. Jo Mills and some local heroes pumped classic house through bass-potted speakers.
"It's important to me that when I do something, there are people there who understand the vibe and also fit in spiritually. It has to be 100% percent Ibiza. Also the DJs. There are so many good ones who don't make it regularly on the packed programs of the island clubs. That's why at my events, in addition to well-known DJs from around the world, you'll find local trouvailles on the decks."
Below Club
Carrer Ricardo Curtoys Gotarredona 37
07840 Santa Eulària des Riu