Walking along Avenida de 8 Agosto, you might suddenly see a bear. Huge and golden, it sits behind the elegant fence of the restaurant that is called Orso – it is a combination of two Spanish words: 'oso' (bear) and 'oro' (gold). The tailor-made mascot of the venue was created according to a custom sketch and proudly occupies the sit of honour in the 200m² hippy chick garden, which is a true oasis with tropical vegetation – palms, olive trees, lavender – and marble tables in the lounge.
Starting with 9pm, guests begin to gather here for the sake of Mediterranean fusion dinner that encompasses Italian, French and Spanish cuisine. Egg caviar with crispy soldiers bread, chopped beef tenderloin tartar with pesto and parmesan cheese, flamed tiger prawns, tuna tataki with sunkissed vegetables, Pavlova with berries, rum baba – the menu composed by chef Romain Boulet boasts of oh so many tempting items… All the ingredients are fresh and mostly locally produced, which endows the meals with an especially exquisite taste. The list of drinks includes 12 signature cocktails, a fine selection of wine and spirits and will especially gladden the fans of Moët & Chandon.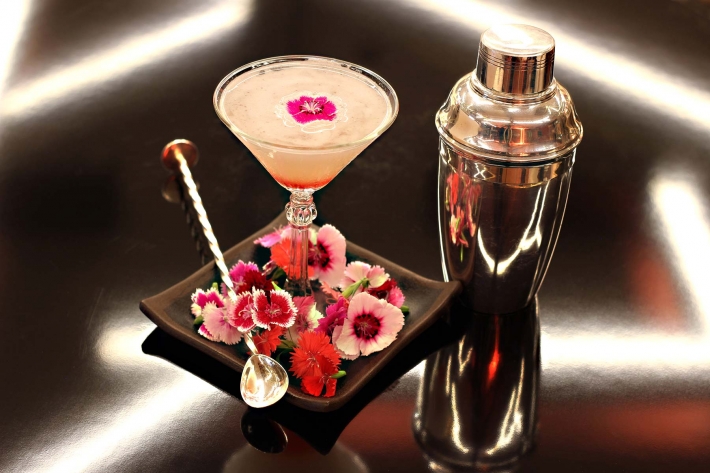 The music in the garden grows silent at midnight in order not to disturb the inhabitants of the neighbouring houses, and the kitchen closes at 1am. But in fact, in the inside area things are just getting started at that moment. Resident DJs Remi Vannetti and Hector Avila switch from sophisticated chill out to cutting edge deep house, and all the guests are invited for a shot to set the pitch for the night, surrounded by Bengal lights and fireworks. The big fun goes on until 4am with shows and performances, from Parisian burlesque to special sets by distinguished guest DJs.
Orso is a place with a difference. It's not another club which are aplenty in Ibiza, but a party restaurant and lounge bar where decorator Tarec Benaoum created a charming art deco interior in white, gold and black. Opened on May 7, it will close in October. Until then, feel free to come every day for a dinner, a drink or a party – and for a photo with the incomparable bear, of course.
Orso Ibiza
Av. 8 d'Agosto, 29
07800 Ibiza