Statement silhouette, adventurous angles and bold and beautiful buildings – just a few phrases that sum up the extraordinary work of Fran Silvestre. He has managed to take his architectural vision to four continents in a successful professional journey that began in Valencia and during which he has left behind him, emblematic projects that stand out for their weightlessness and artistic beauty. From Australia to China, and Nigeria, Brazil and Costa Rica to name just a few locations for his projects. Now, the boldness and elegance of his work lands on the White Isle to give shape to Roca Views Ibiza, a spectacular project by the Fran Silvestre Arquitectos studio that has taken shape at Roca Llisa.
Conceived as a single piece adapted to the hillside and open to the views, this luxurious home "respects the environment as much as possible thanks to a system that is deposited within the topography seeking to make the least possible earth movement. The slope is very steep, so the project had to adapt to it, creating different support planes on the terrain on which to enjoy the panoramic view of the sea".  The unifying visual element of the three levels of the house is a continuous sheet that, depending on the perspective, resembles a 9cm thick appearance. A simulated lightness that is widely used in industrial design and which Silvestre has also applied to other studio projects. "In the studio we like to investigate the limits of construction and try to transgress them when technology allows it. In projects like this one, which have such good landscape characteristics, it is important for us to be able to enjoy the exterior as much as possible, and that is why we are interested in volumes that have very little presence".
The Sphinx, one of the projects Silvestre, who is 46, is currently working on, is part of this constant research into limits. This signature villa, designed with the aim of becoming a landmark on the northern coast of Egypt, has been recognised for its innovative approach to exploring the structural limits of the architectural cantilever. The geometric form of a sphinx inspires this design, which connects a two-storey, flat-roofed volume with a smaller floor rising 15 metres above the ground. "We knew from the beginning that it was feasible; you only have to look at the structures used as auxiliary elements in construction, such as cranes. And in this project we were able to apply it because the owner was not looking to blend in with the surroundings and wanted a very unique design".  The result is a bold work that combines three of the studio's trademarks that also appear in its famous Casa del Acantilado: spatial extension, projection around views and weightlessness. Casa del Acantilado is a 'wow' project in Calpe in Alicante. It is built on a very steep slope and was designed on one level so it looks like it is floating in the air. It over looks the Mediterranean sea with the lower areas embracing the pool to connect the property with a water theme. The stairway leads seductively down to the pool and garden. The concrete building in insulated from the outside and and covered in a smooth white lime stucco. The other materials match the white of the walls to respect the traditional architecture of the area.
Courage, ingenuity and practical knowledge. These qualities have been part of the Valencian architect's family since his great-great-grandfather, inventor Valentín Silvestre, began a saga of engineers that is now in its fifth generation. An illustrious ancestor whom he recalls that his was the first locomotive (a steam locomotive that did not require rails) and the first cigarette rolling machine, among other inventions. A context that has influenced him, as has setting up his studio in the Espai Alfaro, a 7,000 m2 space where the former workshop of Andreu Alfaro, one of the most important Spanish sculptors of the 20th century, was located. Populated by large sculptures, "the place is a great oasis of creativity, which adds an artistic vision to the technical side of engineering. Both aspects have influenced me and how we conceive architecture in the studio, because we like the individual to be able to live in a home and at the same time be part of an artistic expression. Even if it is unconsciously, all the capacity for synthesis of Andreu Alfaro's work enters the team through the pores".
Because of this influence, the designs created by Silvestre have a lot of architectural sculpture. Also of dreamlike beauty, with aesthetic details that seem to be taken from a painting by Chirico or Magritte. Or geometric abstraction. But if we focus on the influences within his speciality, Silvestre is clear: "We must be very grateful for the collaboration with the Portuguese architect Álvaro Siza, winner of the Pritzker Prize, because his attitude towards work and architecture has been moving and decisive in our training. Another architect whose work and career I find impressive is Emilio Tuñón, because like Alfaro, he has developed a great capacity for synthesis and abstraction. For us, he is a great reference".
Silvestre's architecture and design studio, which has received several awards and recognitions, integrates a multidisciplinary team. A sum of talent, work and humility that does not shy away from constructive limits or the new challenges to come: "There will be a new, more conscious way of living and inhabiting. I believe that architectures will cease to exist as we know them and will move towards more technical and biological architectures".
Roca Views, Ibiza, Spain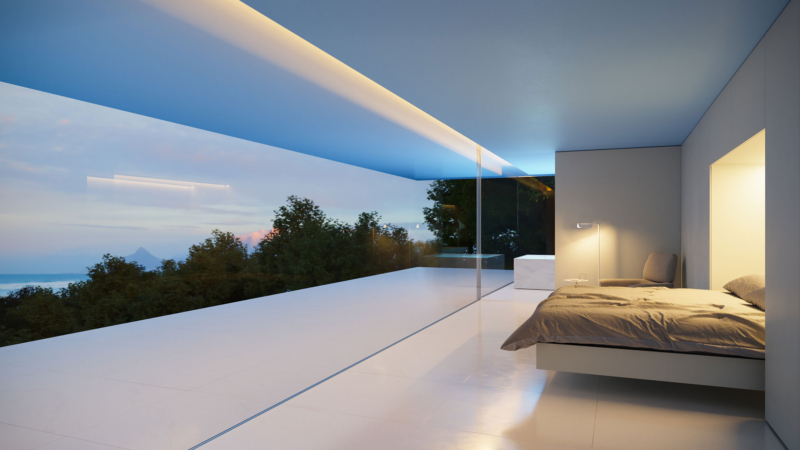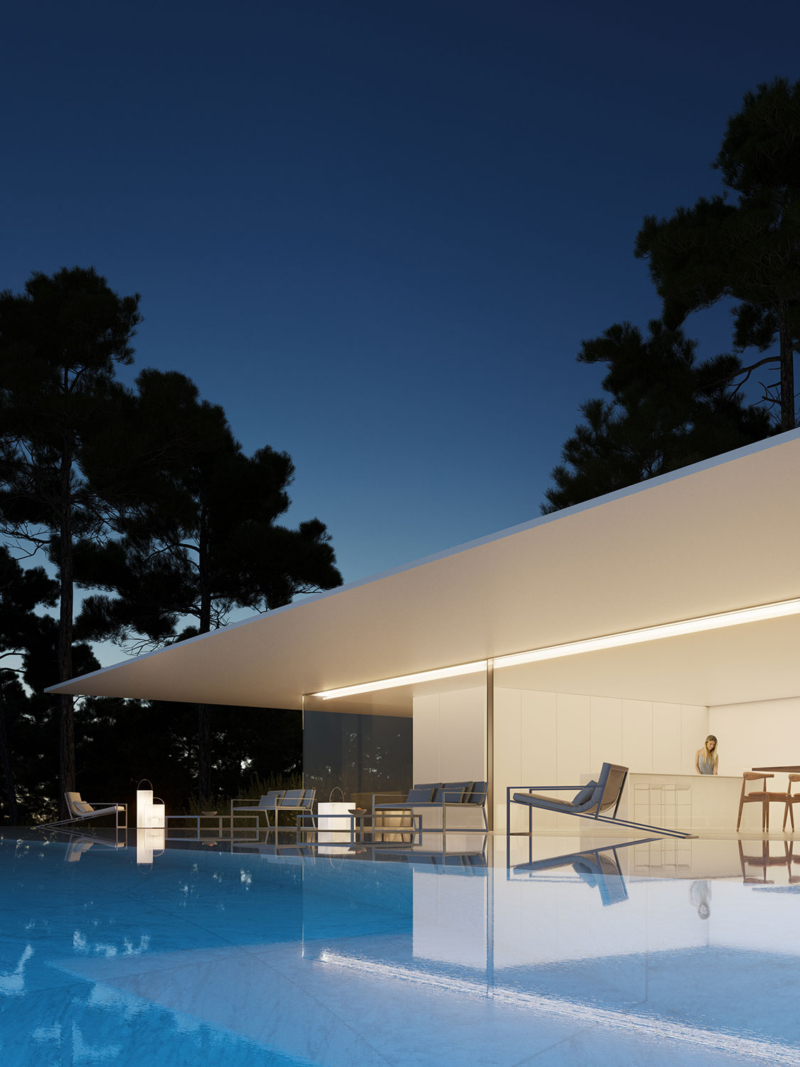 The Sphinx, Egypt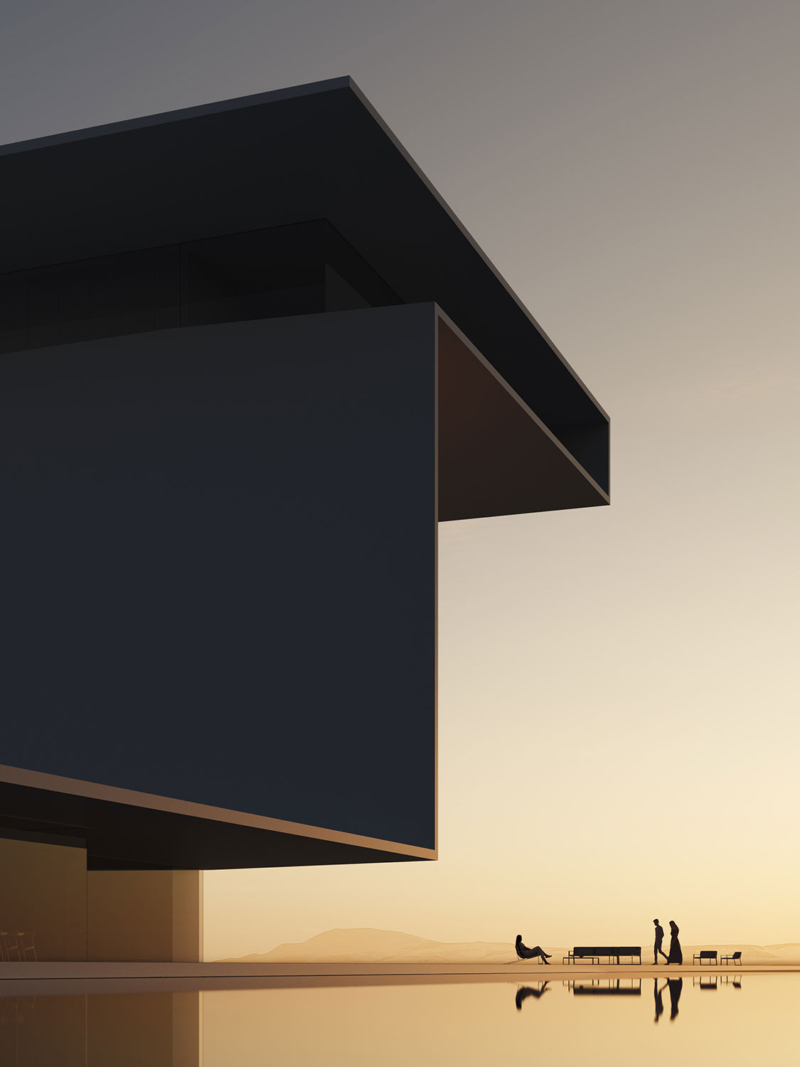 Casa del Acantilado, Calpe, Alicante