Everyone's talking about climate change. In Ibiza, it's making itself felt in the form of an ice age. Three new ice-cream parlours have just recently set up their laboratories in Ibiza Town to produce handmade ice cream. They are the Heladeria Artesanal Gelato Ibiza on Vara de Rey, Diva on the beach promenade in Figueretas and "Vivi's Creamery" – which was the last of the three to open and which we particularly liked – in the old market.
What makes the Creamery special is that it's the brainchild of the person who runs it. The emphasis here is on healthy, natural and fresh products from the island. In architectural terms, the ice cream parlour blends in very well with the atmosphere in the Mercado Viejo's surroundings; something that's not exactly surprising when you find out who's behind it. The "Vivi" after whom it's named is in fact none other than Vivian Sibold, fiancée of Formula 1 shooting star Nico Rosberg.
In Milan – where she just happened to live right opposite an ice cream parlour – she spent three years studying architecture. She was recently given and completed several exceptional commissions; for example, she designed the Lotus F1 motor home (now Caterham) and furnished an 850m² three-storey penthouse in Kuala Lumpur as well as a number of homes around the world. Her interior design firm, Maison V, in Monte Carlo has just "finished a wonderful project, a Belle Époque building that belongs to a well-known Monacan personality."
Here in Ibiza, she is currently refurbishing a villa. When it comes to her own cool project her design has been influenced by all sorts of stylistic elements that are typical of Ibiza. "Nico and I have been on the island ever since we were children and we adore it. The ice cream parlour is a project that's close to our hearts". The entrance doors – flanked by tiny olive trees – once belonged to a huge gate that she found in a back yard and cut to size. They are made of solid sabina wood. During the renovation work they discovered an old stone wall which they exposed and then left as it is. An old timbered ceiling was also conserved, once its beams had been bleached. The turquoise chairs with their braided seats are reminiscent of classic Ibizan farmhouse furniture.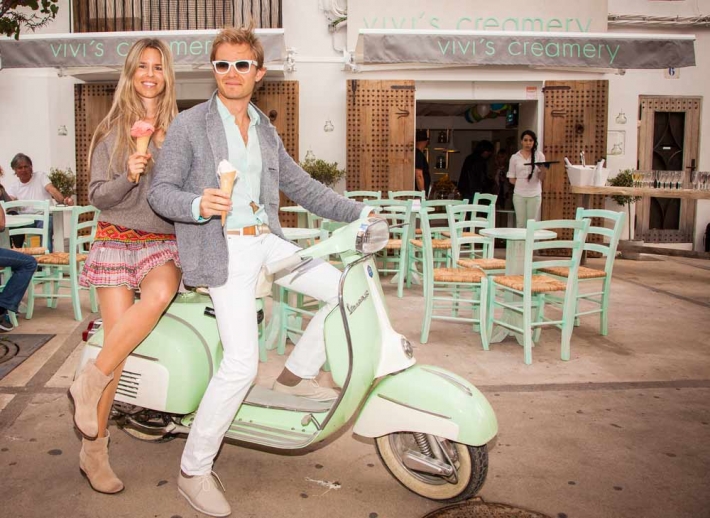 This closeness to Ibiza is also reflected in the way the ice cream is prepared. As far as possible, only produce from the island is used, starting with fresh milk from La Granja in Santa Gertrudis and continuing with ingredients from Nico's own garden. That's where the lemons for the sorbet and orange blossom – something that's very special right now – come from. From the latter Vincent, aka the "cream doctor", who's the in-house ice cream lab's creative mastermind – makes orange blossom ice cream. We tried it out and it's to die for. Both in terms of quantity as well as seasonal availability a variety of ice creams like this is of course limited. In general, fruits and herbs are used according to the season, so they're always fresh and never preserved. "Our ice cream is very healthy. For example, water melon ice cream will only be available in the summer when that fruit is ripe. Normally, we don't use ice cream powder or any chemical flavouring. For allergy sufferers, we even make ice cream out of rice or soy milk" Vivian tells us. "Some ice cream flavours such as our olive oil ice cream are not necessarily sweet ice creams for dessert. Rather, we created them for the catering industry, e.g. as the icing on the cake for a carpaccio. In the summer we may be going to develop a tomato ice cream – possibly combined with rosemary. Our avocado sorbet, made with avocados from the Morna Valley, is also really delicious".
Customers who feel creative can combine their ice cream themselves on the cold stone, for example, vanilla ice cream with fresh apples, caramel sauce, walnuts and cookies. "There are no bounds to creativity. From marshmallows to fresh fruit, anything is possible. Or frozen yogurt with fresh strawberries – yummy", Vivian advises us as she goes into raptures. For those with less imagination, there are plenty of suggestions on the menu. Needless to say, along with the wide choice of ice creams there's also excellent Italian coffee, ranging from classic espresso all the way to iced coffee. And for the health-conscious mum who's treating her kids to an ice cream, smoothies are available. For detox devotees there are ice shakes – always freshly prepared – made of spinach or cucumber, for instance.
Poor Nico; now he's got the coolest ice cream kiosk in the world but because he has to watch his weight, he can't eat any more ice cream himself…
Vivi's Creamery
Mercado viejo, Calle del maestro Juan Mayans, 6
07800 Ibiza