He threads together ideas and thoughts with astounding ease, depth and eloquence. From his office, decorated with motivational slogans, works of art and photos of his wife and his three daughters, Marc Rahola Matutes embodies the spirit that inspires his company, with projects based on concepts that have been developed with exquisite meticulousness. "We do things in much more detail while keeping the reasons why in mind much more than people could imagine. We are aware that there is always an idea behind everything that we do".
It was precisely this different way of regarding tourism, in addition to his desire to prove himself, that made this nephew of Abel Matutes decide to leave a prosperous career in Grupo Palladium to create Ocean Group, a successful holding company that brings together hotels, real estate projects and even an unusual project to produce almonds in Lerida.
Everything started with the acquisition of Ocean Drive hotel in 2009. "When we started out, as tends to happen to all companies, we did not really know what we wanted to do and you begin defining what you do not want to do". Their first establishment served to give the group its name thanks to the fascinating narrative that lay behind its name. Ocean, "the river that encircled the world", was the Greek Titan who ruled the seas beyond the Aegean, where Atlantis was located.
Since then, Ocean Group has undertaken various real estate developments in places such as Cala Comte, Can Misses, Playa d'en Bossa, S'Olivera, Palma and Baqueira, several other Ocean Drive hotels in Talamanca, Port Portals (Mallorca) and Barcelona, the agro-tourism hotel Can Jaume in Ibiza, a future project in Saint Tropez, three Ryans hotels (Ibiza) and an OD Miami that will open in 2019. This last hotel is situated in a building that dates back to 1926. It has an unusual history since it was hit by a hurricane shortly after it opened, and during the crash of '29, the bank that kept it sold its iron beams, thus lowering it to seven floors. With this project, OD is now recovering the original 17-storey building and the facade, which has great historical value. What is more, they will conserve one chamber of the bank where it is said that Al Capone kept some of his money. Once again, a project beneath which beats a fascinating narrative which gives it a very special value in a city with a relatively short history.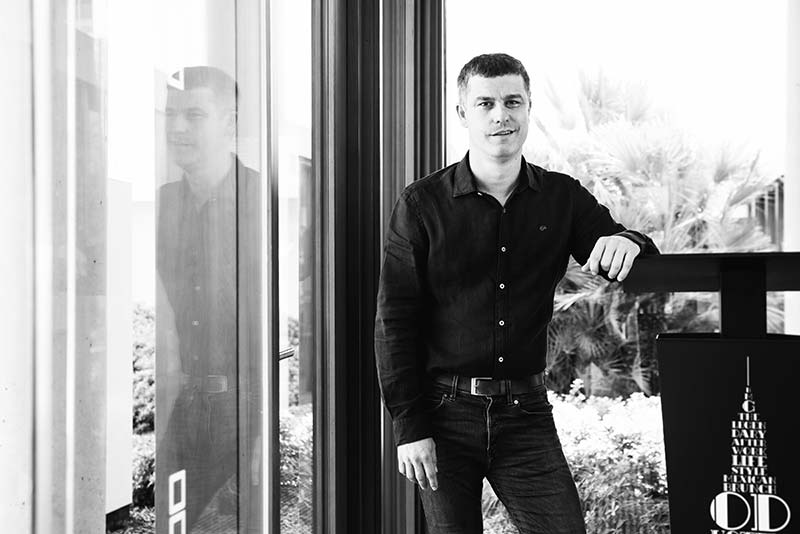 He speaks to us about the current situation of tourism. "The crisis has brought about enormous changes in the tourism sector; each area has specialised in the things that suit it most. Nowadays, more people come to Ibiza, but they stay for less time because they want to go to other places." And he goes further with regard to the much-touted "Airbnb effect", which he considers to be the 'Napster' of tourism: "It is not that I am in favour or against it, but it is a reality that has changed the system. Today, companies either adapt rapidly or they are condemned". Another of the keys to the philosophy of the OD Group is precisely that horizontality and adaptability that, for Marc Rahola Matutes, are crucial at a moment like now, "We make a set of dynamic products. With globalisation, changes are dizzying and you have to equip teams with ways of working that are very permeable and horizontal". And he goes still further, "The product is the team. OD's philosophy is based on having enormous permeability to changes so that our team has the ability to absorb them, the talent to interpret them and the capacity to rewrite them. We are constantly evolving, and making errors and failing are part of this process: they are a way of improving".
Assuming that mistakes will be made as a vital part of the process contrasts with the impression that Rahola Matutes turns everything he touches into gold. That is what happened with one of his most talked about projects, a plan to grow almonds by irrigation system that was suggested to him five years ago. When rain fed, between 80 and 90 kg of shelled almonds can be produced per hectare, whereas using irrigation can produce up to 2,500 kg, with practically no loss of quality or flavour. Spain is the third biggest almond-producing country in the world and it's a product of great interest since all of it can be used with a very wide range of applications. In the time since they began with 18 hectares to the present day, when they possess 1000 and are closing in on another 500, they are about to become one of the main producers in Spain and thus in the whole of Europe. And that's with a project he embraced in an almost purely romantic way…
Unlike the Ocean Drive hotels, the Ryans chain, which has three establishments in Ibiza, is based on an idea of tourism that is inclusive and accessible to anyone, taking its inspiration in the notion of the Irish pub as social centre or meeting point, a bit like a tavern in the Far West. Following this model, at Ryans La Marina hotel, for example, the pub's bar itself is the reception, creating an interesting mix between guests and people who can simply go in to have a drink. The pubs, what is more, have spread to every corner of the world, and they have also matched two other absolutely global concepts: beer and sports. In order to be able to develop the idea from scratch, Marc opened-along with two Irish expats-a chain of pubs in Barcelona: "When I felt that we had already gained enough experience, I got out of the bars in Barcelona, I kept the brand and created the first Ryans hotels."
Taking care of the fine details in what he does is something that is equally reflected in the group's real estate developments, which have a concierge service that enables them to solve the problems or bureaucratic steps that clients may encounter without them even having to journey to the island.
When it comes to what drives his restless, persevering, painstaking personality, he points out the enormous influence of his father, an architect and professor, and his mother, a decorator. Both of them have applied their respective specialisations when collaborating on many of Ocean Group's projects, as well as his sister-an artist-who studied architecture and is now on a two-year grant at one of the best universities in the world.
Marc Rahola Matutes is convinced that life is lived once and that you have to take advantage of it, making mistakes as many times as is necessary, and understanding that, "When you have taken a decision, it is your mistake and what counts is your ability to get up again. You cannot draw up a draft of your life". That determination is probably the secret of his great success as an entrepreneur: "I prefer to feel sorry for having done something than for not having done it. I like getting out of my comfort zone; it's the need to express myself".