A whole range of the most highly varied disciplines coexist in Heart Ibiza: the artistic creativity and magic of Cirque du Soleil along with styles of cooking from all over the world under the unique label of Ferran and Albert Adrià.
Heart Ibiza has been conceived to be experienced in a different way every day. It's all continuously evolving; gastronomic innovations on a daily basis along with different performances and visual stimuli as well as impromptu musical "happenings" create a world of sensations that varies as the evening progresses into the early hours of the morning.
Albert was kind enough to make time in his busy schedule to answer a few questions for the readers of Ibiza Style.
Are you happy with the way things have gone so far?  
Ibiza is a special place and it takes time to establish a rhythm, especially when the season is so short. Considering that we started late, we are very satisfied with how things have gone.
All chefs place great emphasis on the raw ingredients they use; how important are they for you? 
For me, they're absolutely essential. We've got a system whereby if the suppliers don't bring us first rate raw ingredients, they can just take them straight back again. I only want the very best. Both fish and vegetables can be difficult to get at this time of year, especially fish. For example, I would prefer to prepare some really fresh, high quality mackerel than use tuna that is not up to scratch.
How do you intend to adjust your gastronomy to Ibiza's diners?
That's a good question.  In the end, there's good food and bad food and that's true of diners, too. I'm adapting to what clients ask for.  Diners are looking for something here that they can't find elsewhere; they want special things. To give you an example of one recent innovation, upstairs on the Terrace we have just introduced a dish of ramen, or Chinese noodles, served with a frozen sauce and it's proving really popular. The fact that we're starting to get repeat diners is very encouraging. It's a year of trying things out; we'll keep what works and throw out what doesn't. So far, in the six weeks we've been open, we've already gone through seven or eight different menus.
Are there any local culinary traditions from the island that you plan to introduce at Heart?
If you remember, at the opening there was a stew based on an Ibizan recipe. As far as local produce is concerned, our only problem is that, since we require large quantities of fresh produce on a daily basis, not many local farmers are capable of handling that kind of demand.
Aren't you concerned that the "performance" aspect that Cirque du Soleil brings to the enterprise is going to overshadow the cooking?
No: quite the opposite. I believe it will stimulate us to raise our game even higher. As I said, this year it's a case of trying things out. We're holding meetings all the time to work out how to fuse performance, music and gastronomy and when we manage to get it all absolutely right—by which I mean next season—that will be Heart.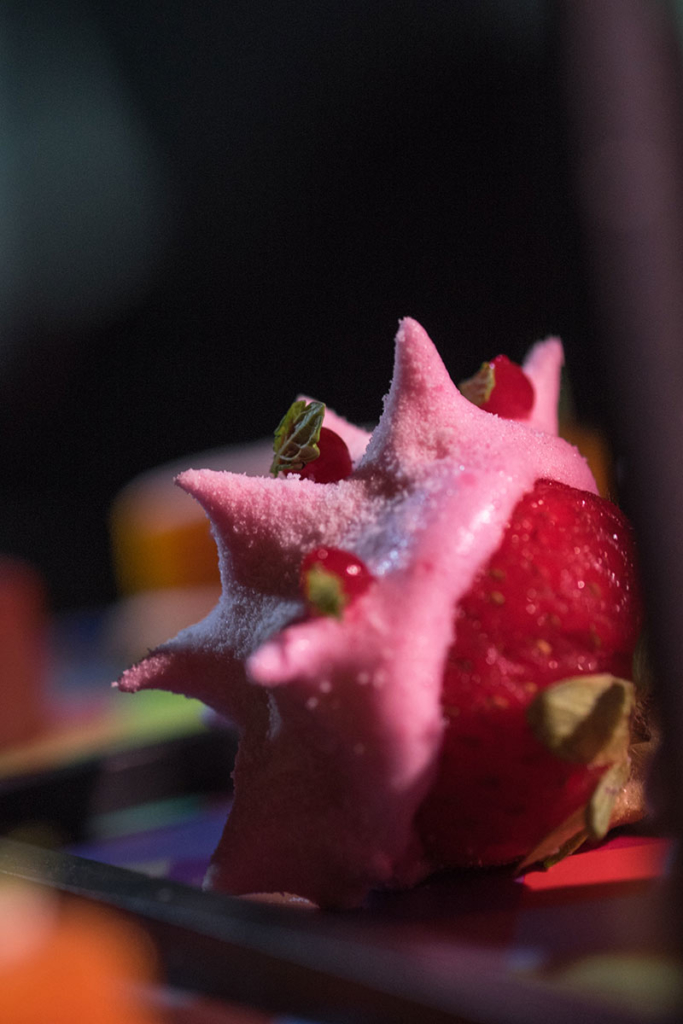 Can you tell us about your relationship with Ibiza and how you see it evolving as an up–and-coming "hot spot" for haute cuisine?
My relationship is not very exciting, I come here to work!  In general, I think haute cuisine is a sign of how well a country's economy is doing and the facts will back me up. In Germany, Belgium, England, and France they've got the best restaurants overall and that's because the economies are doing well. Ibiza is another example although there is still a long way to go. Some people say you can't eat well in Ibiza, but the level of gastronomy here is constantly improving. There's better produce, more suppliers and an ever-greater range of places to eat.
It's well known that you used to enjoy going out at night; is there anywhere in particular in Ibiza you enjoy? 
(Laughs)…I'd love to, but the truth is I'm simply too busy working to go out at night.
To what extent is your brother, Ferrán, involved in Heart?
He's deeply involved. I send him daily reports and he's very enthusiastic about the whole project.
Is there any particular activity or place in Ibiza that allows you to switch off? 
Yes, (laughs) Gran Hotel! I slip away for a quick dip there whenever I can. That and going for a nice relaxing stroll to the lighthouse in the evening. I love it.
---
Ferran y Albert Adrià 
Ferran and Albert Adrià are fully entitled to call themselves the best-known brothers in the world of international gastronomy. Thanks to their willingness to communicate and divulge their work by means of presentations, conferences and books, they have succeeded in bringing about a "before" and "after" in cuisine around the world.
Guy Laliberté 
Guy Laliberté's capacity for work has made him one of the clearest examples of success on both the financial and social level. An artist born with an inquiring mind, his urge to find out about the world led him to leave home at the age of 14. He rose to become the founder of Cirque du Soleil. Laliberté's talent and creativity has extended to other fields in which he continues to inspire with the same energy and spirit that have characterised him all along. His latest project, Heart Ibiza—in partnership with the Adrià brothers—is further proof of it.
Frank Helpin 
Frank Helpin was born in Sept-Iles (Québec). He has been working with Cirque du Soleil for the past five years. Currently, he is the Creative Director of Cirque du Soleil Hospitality. Heart Ibiza has been a dream of Frank's for the past two years; it's a concept that he has been working on alongside the legendary Adrià brothers.