Sitting on the shore of the beautiful bay of Es Cavallet as the sun shines on the sparkling blue waters is one of life's ultimate pleasures. And surely the ideal place to truly feel the full benefit of this picture perfect setting is the much loved El Chiringuito.
In recent years  the beachclub, bar and restaurant has come to define fine dining on Ibiza, wining countless awards, voted under the top 100 restaurants of Spain, and building up a loyal and unfalteringly faithful clientele who  return year after year to sample the sumptuous cuisine in this most elegant of settings.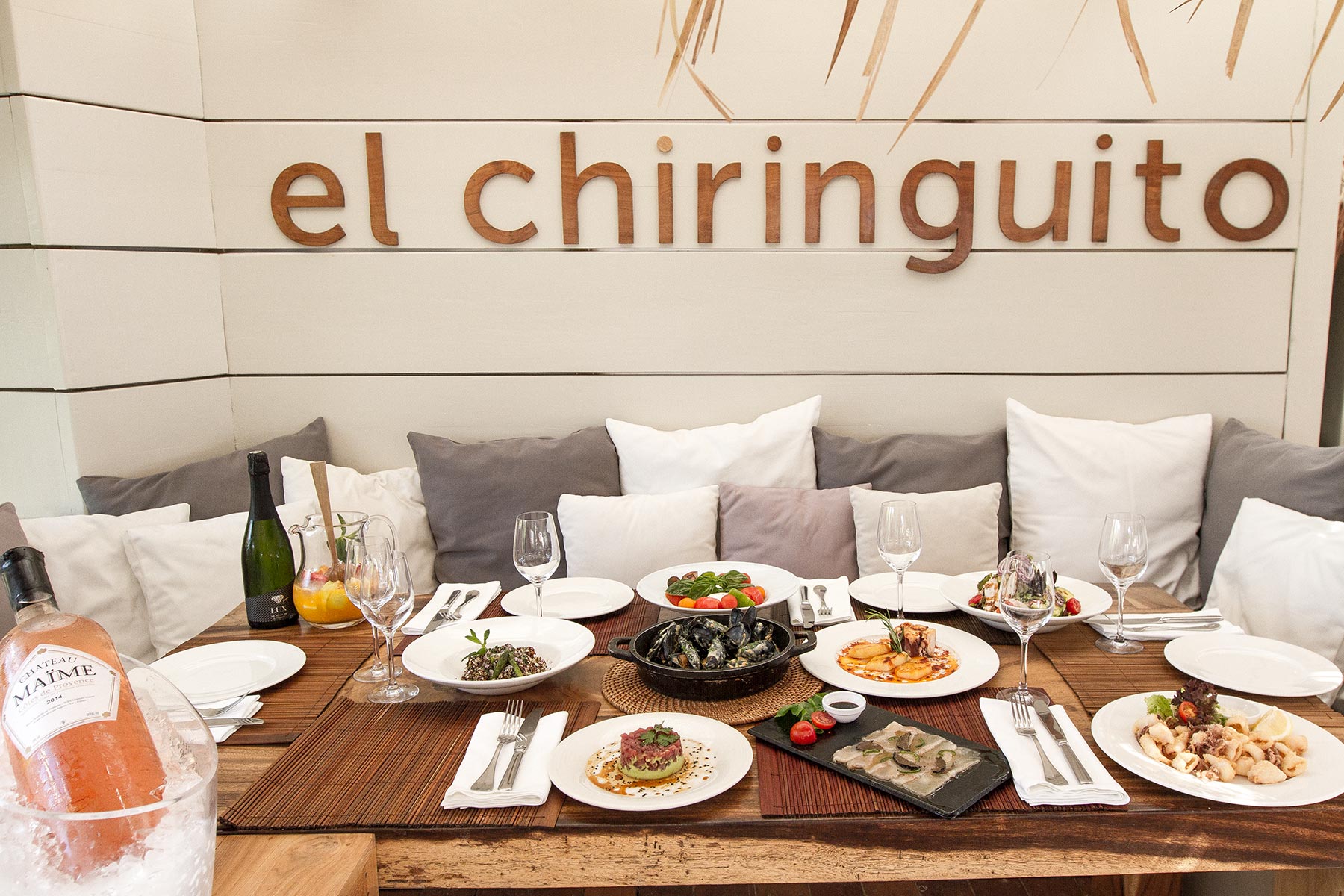 The decor is a winning combination of subtle and stylish whitewashed wood, huge white sofas and daybeds and palm fronds giving something of Caribbean feel. Whether you choose to bask in the sun on the daybeds, which comfortably seat four people, and enjoy the super efficient and attentive waiter service direct to your bed, or prefer to take a long and relaxed lunch in the shaded sanctuary of the refined restaurant area, you can be assured that your El Chiringuito experience will be second to none.
The menu focuses heavily on fresh seafood and the finest cuts of meat, using locally sourced and organic products wherever possible. Open for breakfast from 0900, with a exceptional choice of delicious ways to start your day, including a unforgettable eggs florentine dish, and a dedicated juice bar offering some invigorating juices and smoothie options to kickstart your system, El Chiringuito is the perfect place to spend a whole luxuriant day.
We spent some time talking with the charming and ebullient Head Chef Jerome Palayer, who tells us that he believes the secret to El Chiringuito's enduring success is.. simplicity. And, he laughs, they never keep their customers waiting, and it's true that his kitchen is run with amazing efficiency, it is wonderful to watch the fluid team at work. He explains that the kitchen works with the very freshest ingredients, delivered on a daily basis, to ensure that every dish is flavoursome and delicious. When we visit he serves us his own selection of favourite new additions to the extensive menu, a dazzling array of mouthwatering dishes, including tuna tatare, a super healthy quinoa salad with three different types of quinoa, , terrine of octopus, calamares and finally mussels in a salsa poulette, a nod to his French origins.
Of course, you may wish for a truly outstanding wine to accompany such dishes, and here again, El Chiringuito excels itself with a lengthy selection of the finest wines from across the globe, and a dedicated sommelier on hand to advise and guide you through the choices, ensuring that your selection perfectly complements your food choice.
Another reason for the enduring popularity of El Chiringuito is undoubtedly the excellent service. A handpicked team of welcoming, professional and enthusiastic staff are on hand to make sure that your every need is met, and one feels that absolutely nothing is too much trouble. Service of this standard is difficult to find, and the exceptional quality of the team, from the effusively friendly car valet chaps through to the attentive waiting staff is truly a credit to the restaurant.
Everyone is welcome at El Chiringuito and that includes families, and so the restaurant offers a fun and safe place for little people, in association with Kids in Ibiza, they have created a crèche area for children to create, play and be entertained, leaving parents with some welcome free time to soak up the surroundings and relax. A small but stylish boutique stocks an eclectic selection of beachwear, jewellery and accessories, offering the chance to find the perfect momento of your El Chiringuito visit.
To summarise, El Chiringuito is truly deserving of its excellent reputation for fine dining, the most idyllic of settings and outstanding service, it really does set the benchmark for excellence in Ibiza.