Some say that he is the best painter still actively plying his trade in Ibiza included – with the stress very much on the word 'active'. Erwin Bechtold (born 1925 in Cologne) took up permanent residence here in 1958. Four years previously, he had already made what he describes as a horrendous ferry crossing from the mainland and had a rainy introduction to the island. Despite this inauspicious start, it was love at first sight. But not just for the island: the exquisite artistic taste and organisational talent of Christina, who was to become his wife, were key factors early on in Bechtold's artistic career. The two of them settled in Sant Carles. When they bought the property known as Can Cardona, it was virtually a ruin, but over the years, they gradually transformed it into an imposing dwelling.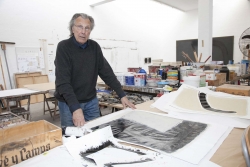 When Erwin moved from Germany to Spain, he abandoned a steady job and an assured future in his familys printing and editorial business. He was determined to make a career for himself as an artist. First he went to Paris where he worked with Fernand Lèger. His next port of call was Barcelona where he soon began associating with members of the 'cultural resistance', including the famous Club 49. Up to then, his paintings had been characterised by informal, material features, but as his career progressed, he developed a more abstract style.
Like many other artists throughout history, Bechtold had to find additional means of support to permit him to pursue his true vocation. He used his qualifications as a master printer to work in graphic design, illustrating many covers for the Destino publishing house over a 30-year span. In parallel with this, he undertook commissions in interior design, a field in which he excelled with innovative ideas, for example planning out the Gonzalo Comella chain of stores as well as the Áncora y Defin and Técnica Extranjera bookshops in Barcelona. Although he looks back on these activities merely as paid employment, he was awarded many prizes for his work over the years and won acclaim from experts in both professional spheres.
After moving to Ibiza, he set out to encourage cultural activities on the island and to be a source of new and stimulating ideas. He accepted an invitation from hotel owner Schillinger to launch the Ibiza 59 group of artists, the roll call of which included such well-known names as Erwin Broner, Hans Laabs, Bob Munford, Katja Meirowsky, Egon Neubauer, Bertil Sjöberg, Antonio Ruiz, Heinz Trökes, Carlos Sansegundo, Bob Thompson and Pierre Haubensak. They not only exhibited their own work at the El Corsario de Dalt Vila gallery but also made it their business to attract paintings by the top artists of their day to Ibiza.
Despite the fact that Bechtold lives on an island, he has never allowed himself to become cut off from the rest of the world. During his career, he has exhibited in such major locations as the Kunstverein and Schloss Morsbroich, the Leicester Gallery, the Museum am Ostwall, the Joan Miro Foundation and the Wilhelm-Hack-Museum. In addition, his works have gone on display in such well-known galleries as Lauter, Gunzenhauser, La Cité, René Métras, Juana Mordó and Galería Barcelona.
Without attempting to explain his paintings, which have in any case always defied any definitive interpretation, Bechtold says: "Our existence is like a ball being batted about by controlled disorder on a playing field of uncontrolled order. My pictures are an attempt to express this complex and unfathomable mystery via the medium of art." It is only an observer who contemplates the canvas with a certain degree of expectation who is able to immerse himself fully in this puzzle. Bechtold is an artist who remains true to himself and does not allow the dictates of fashion to distract or divert him. He loves being able to work quietly and preferably at some distance from controlling influences in society. Ibiza has become his home and he fully intends to carry on working here. Meanwhile, he has his sights firmly fixed on the future: "Tomorrow, I'll paint a masterpiece"
Erwin Bechtold – Portrait of an Artist
Hundreds of thousands – quite possibly millions – of photos portray our beloved Ibiza as a paradise of sun and sand or as the haunt of night owls chilling out to the sound of electronic music. The camera lens has never been able to resist these indisputably attractive visual clichés. Yet the young Ibiza-born film director Enrique Villalonga decided to show a completely different side to the island, one that may be less well known but is perhaps twice as interesting for that very reason. He decided to shoot a documentary film about the cultural life of the island and to focus on the career of the artist Erwin Bechtold.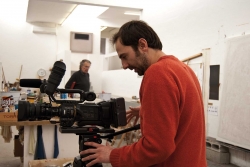 When he started filming 'Erwin Bechtold – Portrait of an Artist' in 2007, Villalonga spoke in depth with Bechtold about his fascinating career in art and about his approach to painting. The result is an hour-long record that not only gives the viewer a comprehensive insight into the work and life of the German artist but also recreates the Ibiza of the 50s and 60s – an era when the island was in the vanguard of contemporary art. The documentary received great praise when it was premiered at the International Film Week in Valladolid (Seminci) in October 2009, from where it went on to be shown in Ibiza and Formentera. It is next due to be screened in Palma de Mallorca, Barcelona and – with the support of the Ramon Llull Institute – in France, the UK and Germany.
This film from Factoría Difácil audiovisual productions (Directors: Enrique Villalonga and Julio Arche) contains original interviews with such famous names of the art world as collector and publisher Pedro Serra, graphic designer Enric Satué, architect Lluís Domènech y Girbau and Director of the Miró Foundation Rosa María Malet, as well as painters Rafael Canogar and Rafael Tur Costa. Also interviewed during the course of the film are entrepreneur Jordi Comella, Director of the Ibiza Museum for Contemporary Art Elena Ruiz Sastre and architect Salvador Roig, as well as arts correspondents Julio Herranz and Fernando de Lama, plus various people who knew Bechtold early on in his career. The interviewees were all well chosen to deliver fascinating insights into this most charismatic of artistic figures. According to fellow painter Canogar, the film captures the spirit of a man who has always displayed immense joie de vivre.
The director
This is the first documentary directed by Enrique Villalonga (born 1976 in Ibiza). He studied filmmaking at the Centro de Estudios Cinematográficos de Cataluña before going on to graduate in Fine Arts at Universidad de Cataluña. Villalonga directed his first film in 1990 at the age of only 14. For this job ViIllalonga relied on the help of Laura Ferrer Arambarri who wrote the script together with the director. She was also in charge of a good part of the interviews and the production. "The idea of basing the documentary on Erwin Bechtold was Laura Ferrer's as she already knew him before from her work as a journalist on the Diario de Ibiza and was convinced it would be worthwhile interviewing him and finding out what he has contributed.The film's director also highlights the "great job" done by his partner at the production company, Julio Arche.
Video of the Exhibition: Bechtold CDAN
Video about the exhibition of Erwin Bechtold in Zaragoza