Long-time friends Guy Laliberté, founder of the world-famous Cirque du Soleil, and Catalan chefs extraordinaire Ferran and Albert Adrià first conceived the idea of doing something truly original together in Ibiza 10 years ago. Now, their amazing brainchild— Heart—made up in equal parts of art, gastronomy and music—is a reality.
Situated in what was once Ibiza casino's restaurant, Jackpot, Heart lies at the very centre of the island's golden mile. It's an ideal location for the brothers—seeking somewhere close to Barcelona—as well as circus über-entrepreneur and Ibiza resident and devotee, Guy Laliberté. Given their backgrounds, you might expect haute cuisine and breathtaking acrobatic shows to take centre stage. On the contrary, what really united them was their aim to do something entirely different: something where art and performance art would be the chief inspiration for the food and where the public would come away genuinely surprised and stimulated. "We want to get people thinking and talking. This is a laboratory of ideas", adds the voluble Basque events specialist and part owner, Busturia.
Musically, Heart's three big nights are Tuesday's "Heart Factory", Thursday's "Boho", and "Acid Sundays," under the aegis of Berlin meister DJ Acid Pauli. Heart Factory will be a pairing of live acts and electronic music, as exemplified on its opening event on June 30th that featured an innovative collaboration between Ibiza's techno overlord, Sven Väth, and world-renowned piano wunderkind, Nils Frahm. The Boho party on Thursdays will be a more "underground" affair with the accent on live performances while Acid Sundays has all the makings of an epic Ibiza party: a synergy of ever-evolving, Berlin-style techno and plenty of thematic input from all over the world. With recent Acid Sunday parties based on such themes as "trip to heart" and "we are the imagination of ourselves", it is clear Heart promises to push the boundaries of what people generally believe club culture is about. On the other "standard" nights—known as Heart Beat events, Ibiza's many talented groups will be showcased alongside house band, The Johnny Freelance Experience. The emphasis will be on funk and soul and having lots of fun.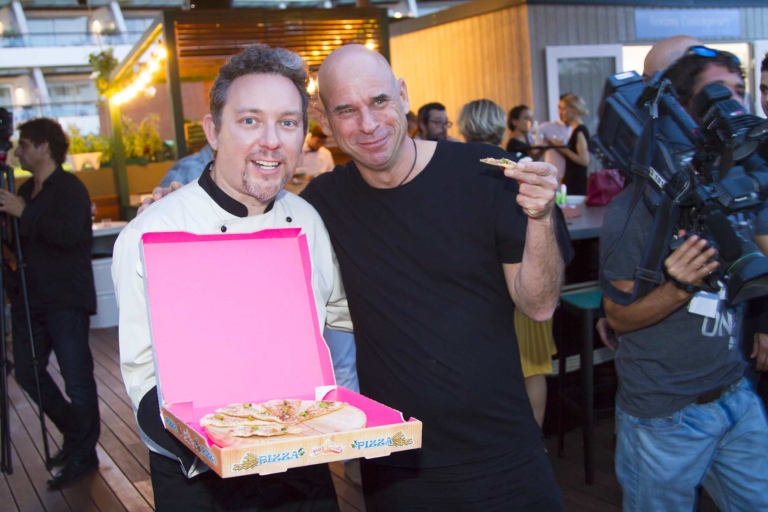 Upstairs, Heart's ample 800m² Terrace offers visitors splendid views of Dalt Vila, in-situ art, dynamic performances that change daily, Balearic beats, and the chance to wander among stalls offering high class international street food with that unmistakable Adrià touch.  It's an inviting, laidback, open-air space with free entry (food vouchers cost €80; drinks extra) that looks set to become an "in" spot among clubbers enjoying a pre-party drink. According to Frank Helpin, its charming Québécois hospitality director, the Terrace is "the hippie market of the future". What we're doing is highly experimental; this collision of art and food is designed to provoke surprise and intrigue among the public. When you come here, you feel like you're entering an art space where artists are constantly experimenting. At the same time, the island itself features heavily; much of what you see is inspired in the world of Ibiza: its payesas and fishermen, its flora, even its graffiti".
Underpinning everything at this dazzling new venue—designed by top Spanish architect Patricia Urquiola—is the concept of art and performance art. Diners and clubbers will thus find themselves surrounded by site-specific avant-garde art from international artists such as Takashi Murakami, Miguel Chevalier, Richard Long, Rafael Lozano-Hemmer and the London-based collective UVA, interactive projections, installations and ongoing exhibitions curated by Ventana Contemporary Ibiza, and Art Projects Ibiza. And that's in addition to cutting-edge international and local painters, urban dancers, gorgeous muses, muralists, contemporary dancers and choreographers. Not for nothing is the venue's name, Heart, made up of the words "human art". If this place doesn't turn out to be a complete game-changer at the nucleus of the island's ever-evolving scene, frankly, I don't know what will.