From the 3-6 November, Six Senses Ibiza will present Alma Festival. The first of its kind, Alma will take the shape of a three-day festival centred around spirituality, wellness and celebration. Alma is a soul adventure, which brings together a community of seekers who want to find a meaningful way to connect, breathing new life into modern spirituality. For the three-day festival Six Senses Ibiza brings together international thought-leaders and the best of Ibiza's abundant talent curating a rich program of events and workshops, live music, artistic performances and culinary experiences to inspire and amuse.
The sparkling Xarraca Bay in the spiritual North of Ibiza provides the perfect setting. Programme highlights include inspiring talks with luminaries such as Dave Asprey, the "father of biohacking", wellness workshops with internationally cherished wellbeing expert Jasmine Hemsley and transformative workouts with The Class founder Taryn Toomey. Alma will also host two of the world's pioneers that successfully brought meditation and other personal growth tools online and made them easily accessible for anyone: Mindvalley CEO Vishen Lakhiani and Michael Smith, co-founder of Calm, the No 1 app for sleep, meditation, and relaxation. From surprise art performances to sound healing sessions, psychedelic breathwork to sex talks and dancing the night away with local DJs at disco Los Gatos – Alma celebrates the spiritual and artistic communities of Ibiza and beyond, with some of the most creative, and progressive of their kind.
To inaugurate the resort's first Alma Festival, world-renowned spiritual guide and mystic Sah D´Simone will receive guests with a unique welcome ceremony, setting the tone for the coming days and creating a thriving festival community. Alma is all about connecting with like-minded "seekers", coming together for fireside chats, sunset ceremonies, workshops, community dinners and more, to inspire each other, fuelled by the ideas and experiences delivered by some of the world's leading voices in self-development and an eclectic crew of creatives, artists and performers.
Dave Asprey explains: "Biohacking is all about changing your environment so your body will do what you want. Spirituality, play, community, and even sex are vital elements for you to create a nourishing environment of abundance. I'm honoured to share this precious knowledge during the Alma Festival at Six Senses in Ibiza. See you on the dance floor!" Vishen Lakhiani, founder of Mindvalley, said: "I am thrilled to bring my 6 Phase Meditation practice and methodology to Alma Festival attendees so they have the keys to unlock their fullest potential. The 6 Phase Meditation is a radical re-envisioning of meditation for your modern life. No matter how busy, prone to a wandering mind, or allergic to the lotus posture you are, the 6 Phase Meditation is suitable for absolutely everyone, no exceptions. No boredom, special breathing, or 'clearing your mind' required."
Alma marks the beginning of "Cool Season" at Six Senses Ibiza. As one of the few Balearic resorts open during the winter months, the resort invites guests to enjoy the sunny spring-like winter in the Balearics, offering an extensive line up of immersive retreats, experiences and entertainment.
Alma packages include 3 nights' accommodation at Six Senses Ibiza, full board, festival ticket and more. Single occupancy rates start from €1.950, double occupancy from €2.805. All Alma participants will also receive annual one-time subscriptions to Calm and The Clas
Booking and information:
www.sixsenses.com/en/resorts/ibiza/alma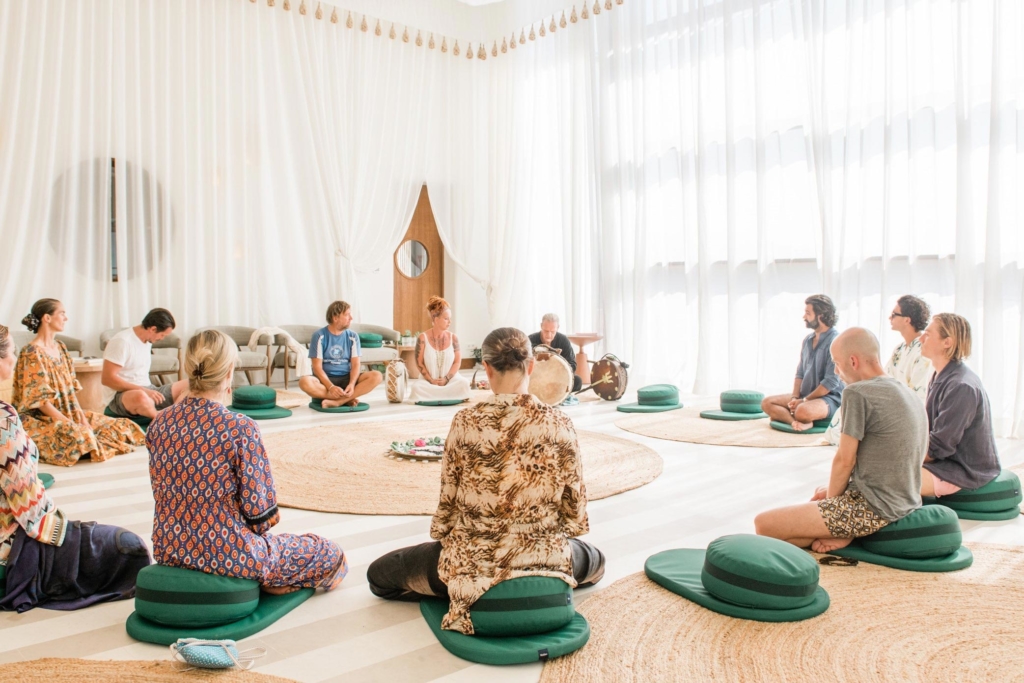 Six Senses Ibiza
Carrer Camí de sa Torre, 71
07810 San Juan