Melcocha. You may be familiar with this name of a typical Peruvian sweet, but if you go for lunch or dinner at Tigre Morado it is likely that, as in my case, it will become the name of your favourite dish. The peaceful beach of Port des Torrent is experiencing a small gastronomic revolution with the arrival of this new restaurant, the result of a collaboration between Grupo Alma, responsible for the Almar restaurant in Talamanca, and Fabric Sushi, the successful Argentinean global brand with more than 60 restaurants and delivery services, with various sub-brands.
Pablo Dayan tells us that he has always been a fan of gastronomy, especially sushi, and that he used to spend the money he earned working in an optician's since he was 15 -years-old going out to eat and having fun. When he finished high school, he couldn't decide on any particular course of study, so he suggested to his brother Diego that he set up a sushi delivery service. The Dayan brothers could never have imagined that the first business they set up using their parents' kitchen would become such a boom. Only a year after starting, in 2008, they opened their first restaurant and delivery service in Buenos Aires. In the following years they opened a cascade of new premises and in 2014 they started franchising. At the request of their customers, in 2016 they opened their first haute cuisine restaurant, Fabric Nikkei Sushi Bar. The success was unstoppable and led them to start developing other brands in 2019, including Tigre Morado, whose name pays homage to two fundamental elements of Peruvian culture, tiger's milk and chicha morada, and for which they travelled in 2018 and 2019 several times to Peru to conceptualise the project properly. Despite the pandemic, the Tigre Morado restaurant in Palermo soon became the hot spot in Buenos Aires, leading to new openings in Punta del Este, Miami… and Ibiza.
With a spectacular seafront location in the spacious and pleasant premises where Alma Beach used to be, Tigre Morado Ibiza is their first restaurant in Europe, a perfect letter of introduction given the international and cosmopolitan public of the island, but they already have four more openings planned and the idea is to open many more branches. As Pablo tells us: "Ibiza seemed to us to be a good first bet in Europe". Everything has been done in record time, from the first negotiations in February with Grupo Alma to the opening at the end of May. Despite this, they already have an enthusiastic response from visitors. "The island has received us very well, we have very good expectations, we opened a month ago and we are very happy, what we like most is that the people who come here repeat and recommend it."
No wonder. Tigre Morado has everything going for it: an idyllic location, views of the sunset, a sophisticated, spacious and comfortable place decorated with taste, an attentive, friendly and helpful team that feels like a big family, the good vibes transmitted by its musical concept, and, above all, a unique gastronomic offer on the island.
With the soul of a cevichería, Tigre Morado offers a Peruvian-Mediterranean fusion with an excellent selection of Nikkei sushi to enjoy on the beach. Among its star dishes is of course the Tiradito Melcocha, with white fish, usually sea bass, accompanied by a warm aji amarillo butter and grilled squid, a truly unique morsel. Other delicacies to try are the Mariscos al Fuego, sautéed molluscs and shellfish served in shells and presented with a fire in the middle of the plate, the Conchitas de vieira a la parmesana, the Omakase de Sushi Nikkei, the Lubina a la chapa with Peruvian butter, the Tiradito de Salmon with passion fruit sauce, causa limeña with chicken or tuna tartar and prawns, four varieties of ceviche (including a vegan one), an original version of paella finished with pork shoulder and chilli, or the Pulpo Anticullego, a fusion of Peruvian octopus with anticucho and Galician octopus. They also have more hearty dishes such as the Lomito salteado, chopped sirloin steak sautéed in a wok, or the Bife Apanao. As accompaniments, the Chaufa Rice and the Huancaína Potatoes stand out. And to top it all off, the star dessert: Al Churro Churro, pure gourmet delight.
Tigre Morado's menu features exceptionally fresh fish and seafood. "We know that the quality of the product is key." They try to work as much as possible with local producers, using products from Spain and Ibiza such as tomatoes and peasant chicken, and others brought directly from Peru, such as corn (purple, white, corn nut) or the essential aji panca and aji amarillo.
The drinks on offer are very generous, and include lemonades, natural juices, smoothies, any classic cocktail you could wish for, mocktails, French champagne sangrias, cava, white and red wine, and a carefully selected list of signature cocktails. The wine list is dominated by natural wines and the best-known European wines, although, as Pablo points out, "we try to deal with the least commercial wines possible, with small and medium-sized wineries".
Several artistic interventions are still pending in the restaurant, impossible before opening given the deadlines they had to meet, and they want to organise special events and gradually introduce new dishes off the menu. "We also want to make some proposals for the local public, because we want this to be their home." As Pablo sums up: "Tigre Morado and Ibiza are synonymous. A place with strong and positive energies, we have the same spirit."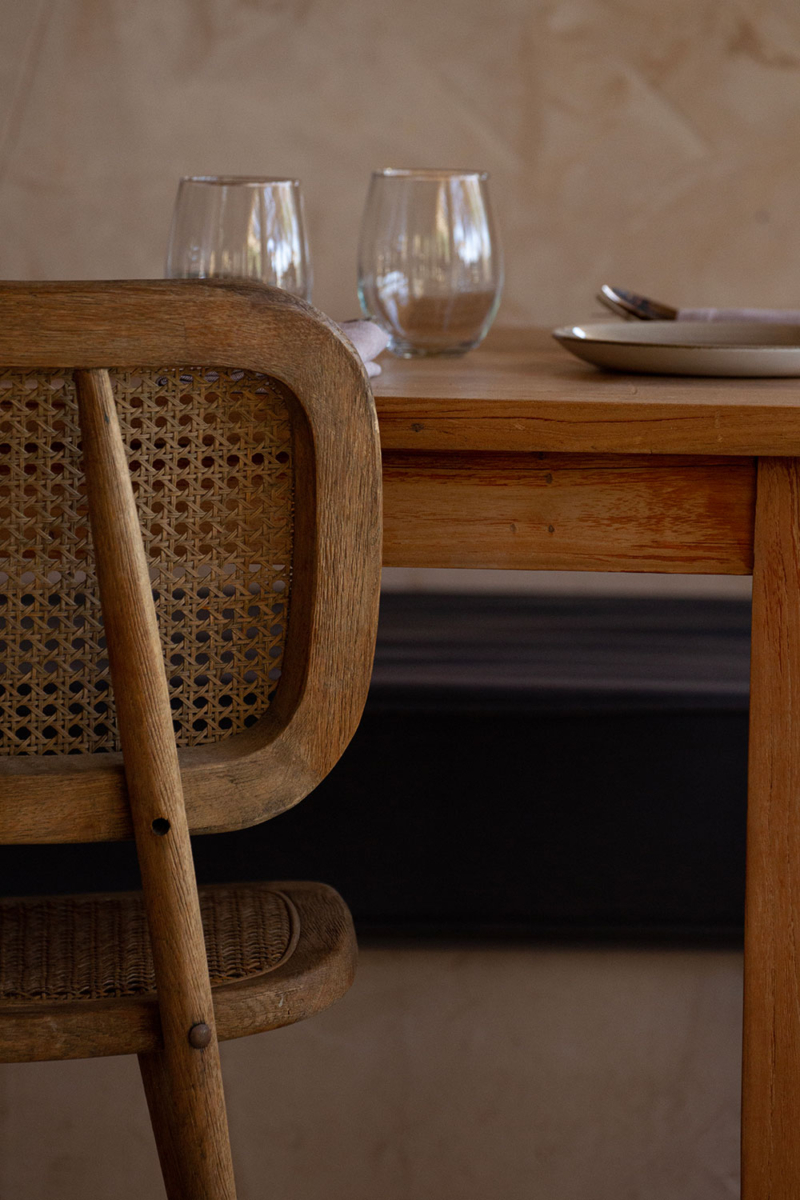 Tigre Morado Ibiza
Port des Torrent, Carrer Biscaia
07829 Sant Josep de Sa Talaia