Bam Bu Ku blends the coolness of Ibiza with an understated vibe of accessibility. Situated next door to its older, bolder – louder sister venue, 'O Beach', one thing is very different. It welcomes, facilitates and embraces the younger members of your family. All the while offering outstanding cocktails, dining, poolside day beds with charming service, as well as a happily attentive lifeguard.
Our day started with being shown to our lagoon-side day bed, neatly rolled towels all part of the complimentary service. Fran, our delightful waiter, introduced himself and enthuses about how much he loves his job, then recommended some cocktails… a twist on a Pina colada and a Tea Breeze — think Earl Grey combined with citrus served in a cute china tea pot. Both delicious and swiftly delivered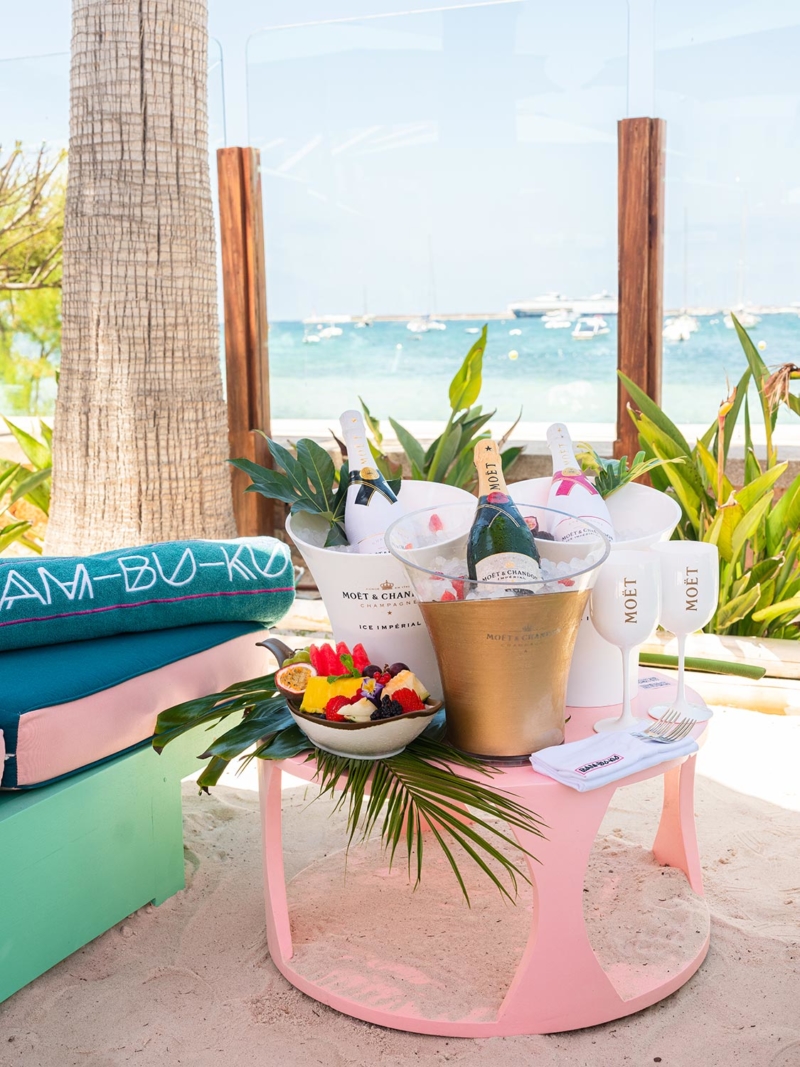 Next, food in the shaded restaurant. Tapas, pizzas, burgers — all very tempting, but not as eye catching as the platter "del mar".  A beautifully presented smorgasbord, including a white fish ceviche, (with to-die-for giant corn kernels). Pil Pil prawns — with the most monstrous but magnificent chilli hidden amid the oil. Mussels in a white wine sauce — and some beautiful roasted vegetables.
Antonio, our ultra attentive waiter, served a nicely chilled Chablis.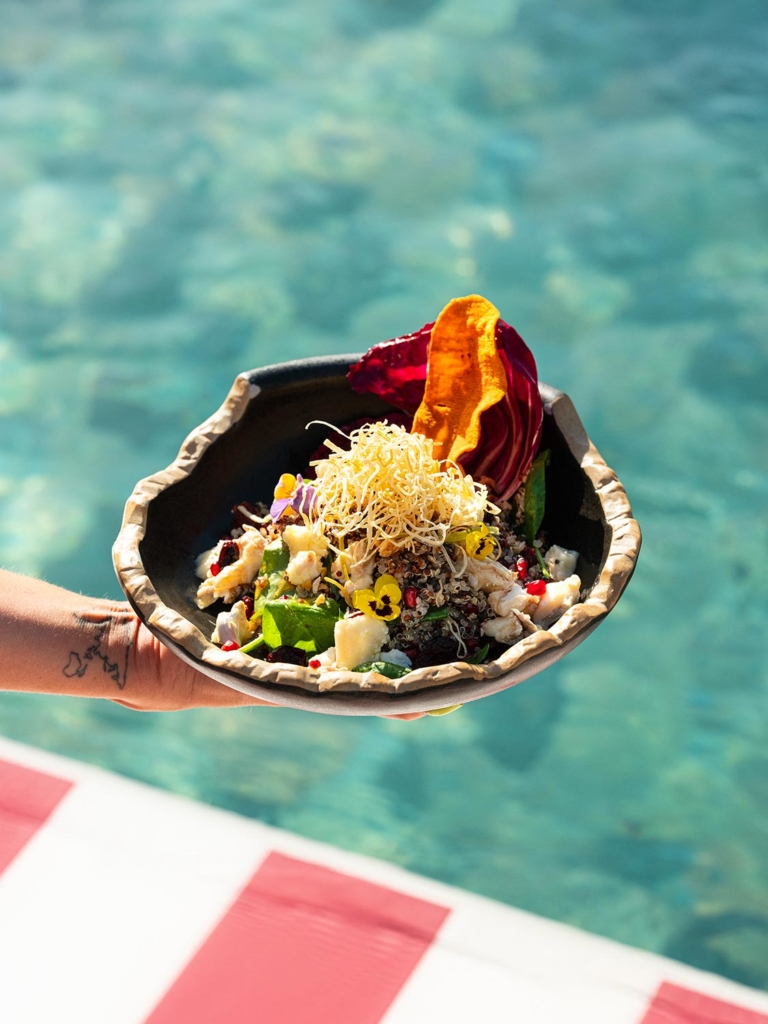 Back in the pool to cool down — it is deep enough to immerse yourself in but not so deep that you feel out of your depth. There are alternative small pools too – and showers to rinse off. You also have the choice for a beach experience, if you don't choose to sit around the lagoon you can sit with you toes in the sand, looking out to sea across the San Antonio bay.
Fam-Bu-Ku is a family brunch on Sundays with entertainment and activities to keep both the adults and littles ones entertained all day. There is certified childcare on hand so it is the perfect place to spend time as a family.
Returning to Bam-Bu-Ku from July 23rd will be a series of weekly events. Wednesdays evenings from 9pm will see the return of the outdoor cinema, where you can bed down and watch a family favourite with a bag of popcorn. With a different film every week, you also get to enjoy the sunset at the same time. Saturdays are all about 'Mex-I-Ku' – the weekly Mexican Supper Clubs. Think nachos, tacos, burritos, grills, delicious dessert treats, and a whole host of vibrant entertainments! And Fridays are all about music and dining at Musicana.
A new breakfast service also commences this month from 11am for those who like to get out and about before lunch!
So the big test of Bam Bu Ku is after all that food — can you manage the Flow Rider. The only surf simulator in the island. The water is fast, thankfully the floor is cushioned. But I'm assured it doesn't take too many sessions to be able to improve your surfing skills to a standing position.
The cute thing about Bam Bu Ku is tucked away around the corner is a secure children's area with swing and a Wendy house amongst other attractions. So parallel lives can continue in harmony — a cocktail around the pool while an hour is whisked away on the swing. But the beauty is you don't need kids for it to work — it isn't exclusive to families.

Flow Rider: Q&A
How hard is it to learn?
It is pretty easy, you just have to have good balance, concentrate and have fun.
What's the most difficult part about learning to surf on the flow rider?
Keeping the board straight because if you move it a little you will fall.
How long on average to does take it master it?
It depends on the person, some master it in a couple of hours, some take weeks.
It looks fast and furious – does it hurt when you fall?
It goes pretty fast but it doesn't hurt because it is bouncy. The only thing is that you have to put your hands on the wall at the back to stop yourself when you fall.
Is there restrictions on who can try it out?
You must be the age of 8 and 1'30m tall.
Once you learn how hard is it to transfer it to surfing in the sea?
Surfing on the flow rider is different to surfing in the sea, on the flow rider you have our shoulders straight and weight back, in the sea it's shoulder sideways and weigh forwards.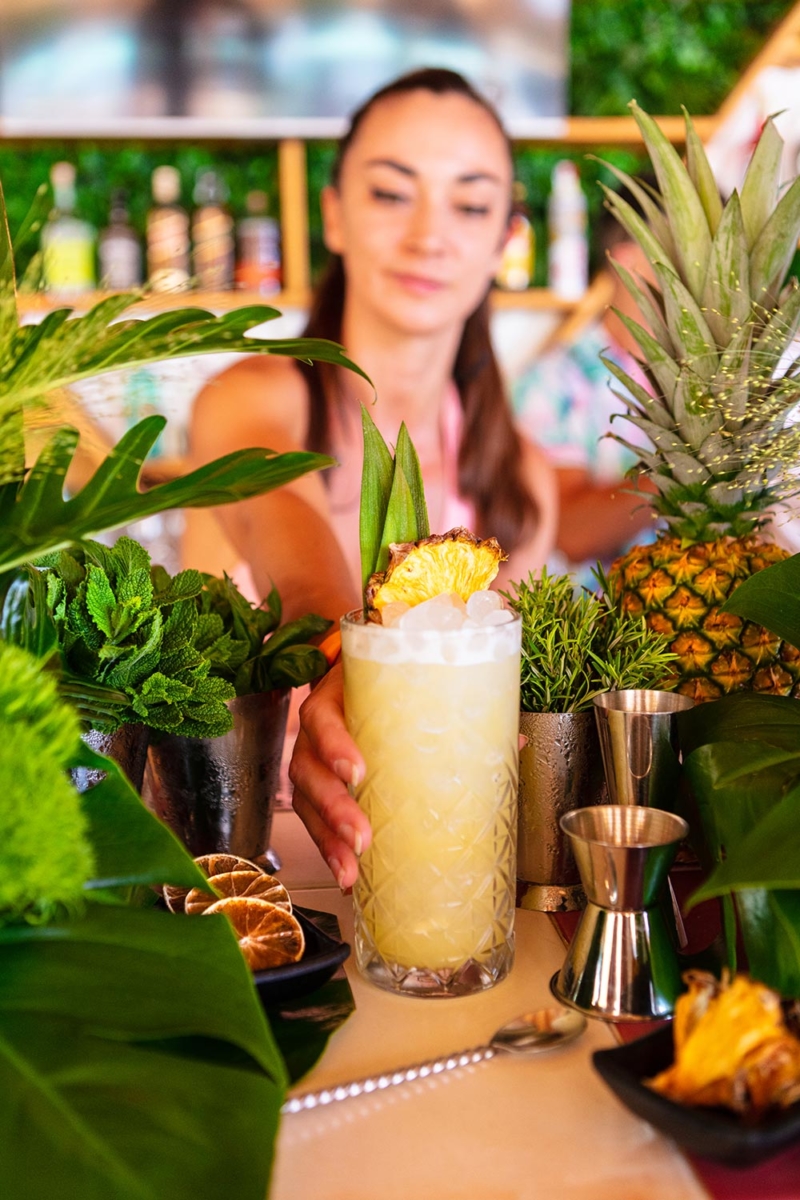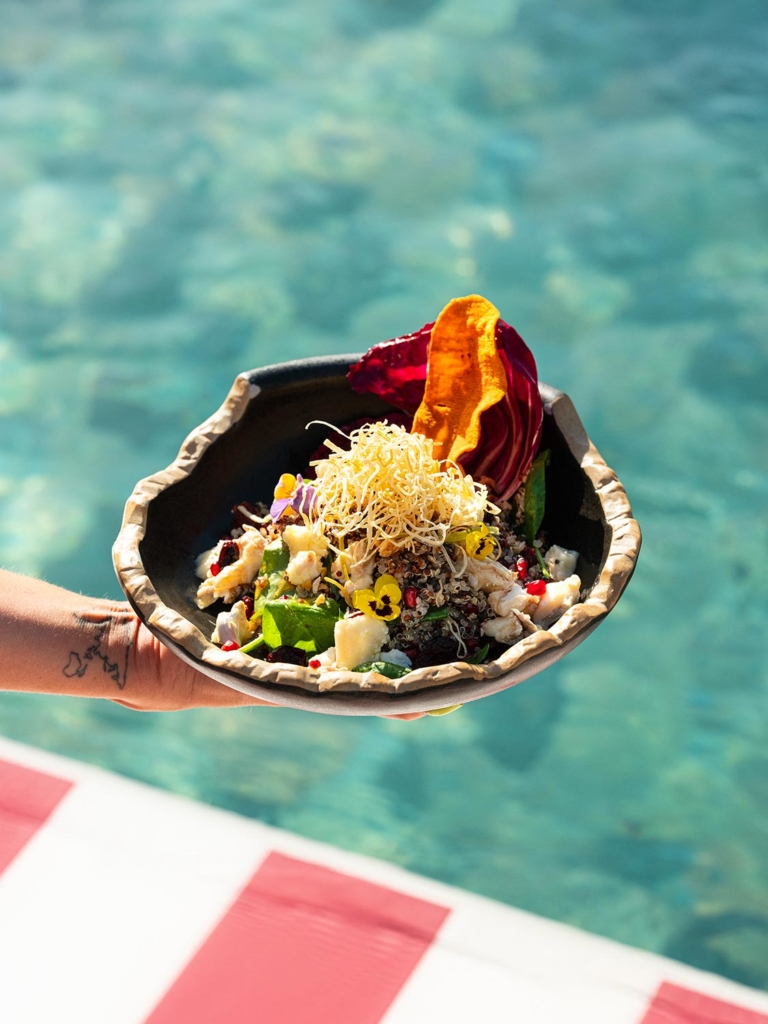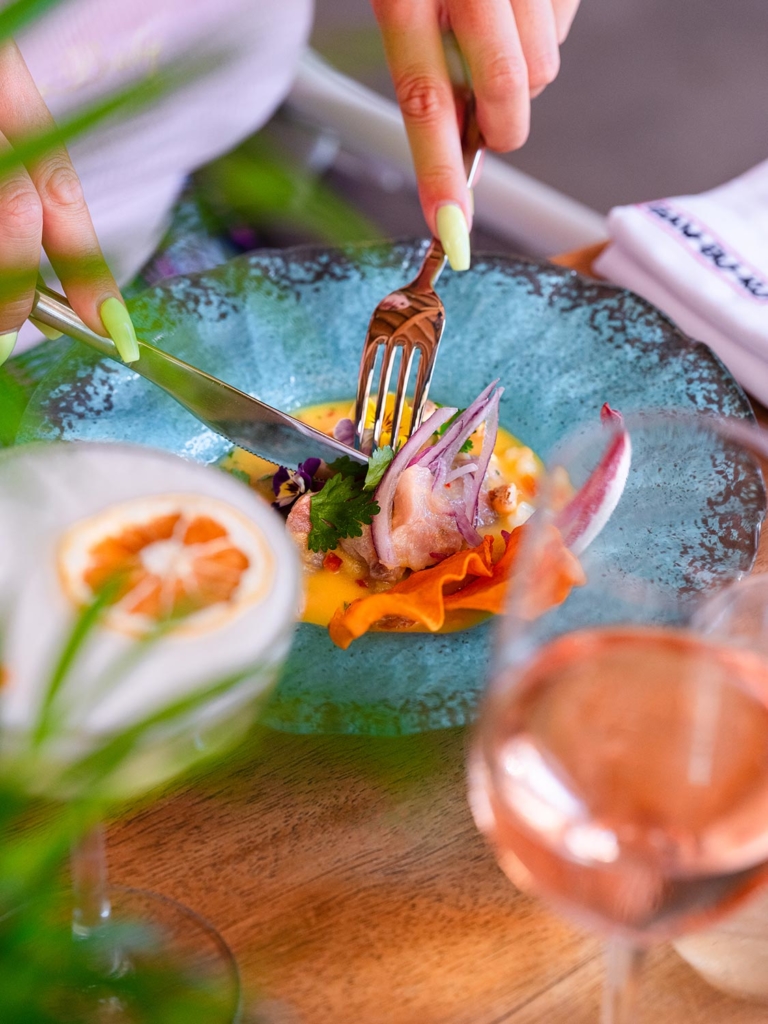 Bam Bu Ku
10 Carrer de Moli
07820 San Antonio