As we move into the second season for Chiringuito Blue, the venue has become a 'must do' on any discerning visitors list when planning their Ibiza agenda. Whether it is the luxurious yet laid back decor, welcoming atmosphere, beachfront location or effusively attentive staff, one thing which will ensure clients return time and time again is the innovative and exceptional wine, champagne, cava and, famously, the cocktails on offer here in this most idyllic destination.
Take a break from soaking up the healing rays of the Ibizan sunshine and refresh your palate with a reviving glass of.. well. what to choose? If you are dining and wish to enjoy a wine which perfectly complements your choice of cuisine, then you are most certainly in the right place.
The wine list has been painstakingly curated over a number of months by Juanan Martinez and the Blue team, who has a wealth of experience having managed some of the islands most renowned restaurants for many years. He worked alongside Joshua Graff, to create this sublime selection of wines, which, he tells us are designed very much with the palate of the customer in mind, explaining that it is of great importance that the wine list is designed to be enjoyed and to entice, with recognisable names sitting perfectly alongside offerings from smaller, boutique vineyards.
This season, Chiringuito Blue is proudly presenting a private cellar which will feature some exceptional vintage wines, such as the divine Chateau Angelus 2010,  one of the great vintages and a grand añada.  All of the wines on this list come from small, hand selected vineyards in France, very special vintages which are almost impossible to find, and all at astoundingly reasonable prices.
In addition, this summer will see many of your favourite wines available in bigger formats, expect to see an abundance of magnums and jeroboams gracing the tables, a very welcome addition!
For the perfect white, choose the Pedralonga Vendetta, a Rias Baixas Albarino, sourced north of Spain,which is also available in magnum format, found in only one other venue on the whole island. Red wine aficionados will delight in the Artcologic D.O.C Rioja, served by the glass, bottle. For champagne, Joshua prefers the much loved Veuve Clicquot, which is also available as a magnum or jaroboam.  For a glass of cava after a long leisurely day on the beach, we recommend the Stars Perelada Brut, served by the glass or bottle.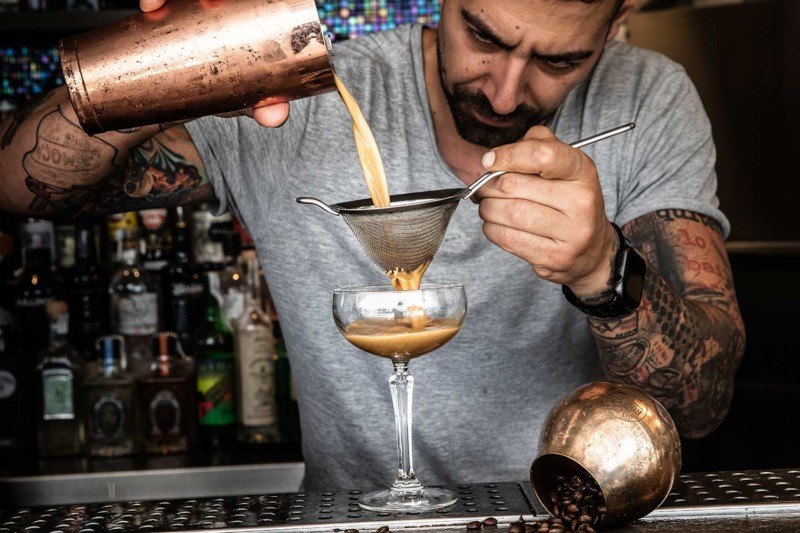 These wines have been meticulously selected and the team at Chiringuito Blue have listened carefully to recommendations of friends, supplier, and also built personal relationships with the chatues and wineries to ensure that any discerning wine lover will be delighted by the choices on offer.
Now to the cocktails and if you are enchanted by mixology, then there is no better place to be than Chiringuito Blue. We sat with Marcos Garvin, the cocktail master, who is evidently proud of the innovative and perfectly presented cocktails he and his team create with passion and the finest attention to detail. He says that with such a myriad of magnificent drinks, it's hard to select his favourites, but he managed to select a few of his personal preferences, all of which are a delight to drink.
First, the signature cocktail, Blue's Canteen! The inspiration for this cocktail was the sublime setting of this elegant chiringuito, and the Blue perfect captures this essence of her character, elegant, exotic, fresh and unconventional. Made with a beautiful blend of Tito's vodka, rhubarb bitters, Lulo juice, lime juice and homemade syrup of lime and vanilla leaf, this is a drink which also gives back to the island, whenever someone orders a Blue, the company allocate 1 € to the conservation of the fauna and flora of Ibiza, a perfect excuse to indulge in a way that helps to preserve Ibiza!
Next, onto the vibrant Cool Skull, served in a bespoke cup decorated with the design representing the day of the dead, this cocktail is with based on Don Julio tequila white, cured cupreata tequila with smoked notes and a pine liqueur, from the pitiusas tree. These exotic ingredients are carefully combined with a homemade orgeat of almonds and orange blossom water.
We also love thie take on the Espresso Martini, the Espresso Meirtini. Proud to be a  Mediterranean fusion restaurant which also takes inspiration from the Middle East, this version of the espresso martini  includes notes of organic agave and homemade sesame paste along with Ciroc vodka, Kahlua liquor, double espresso coffee.. A cool kickstart to your day!
A truly refreshing taste comes from their Moça, a pineapple twist wash! A cocktail with true character! Cachaça capucana, Jack Daniels honey, yellow chartreuse, angostura, coconut milk & fresh pineapple juice make this an eternally popular choice.
Finally, the Voodoo people, the bar's best seller a winning combination of Zacapa 23 kraken speculated rum, fresh lime and grapefruit juice, dramm pepper liquor, passion fruit and homemade banana and vanilla syrup. This one draws you in time after time with its zesty flavours!
So, dine, drink and delight at Chiringuito Blue this summer as the professional team take you through from dawn until dusk with their never ending array of beverages to keep your thirst quenched and your spirits high!
Chiringuito Blue
Paseo Maritimo, 15
07840 Santa Eularia des Riu