In Mediterranean climes, a smooth rosé has always been a popular summer drink. At present, rosé mania seems to have broken out all over the world and the creation of new wines is in vogue from Ibiza to California. Only last year, world-renowned hotelier André Balazs christened his Sunset Beach Rosé which he produces with his friend, the Long Island wine maker Christian Wölffer.
And now we have Rosé Ibizkus, produced by the young French wine connoisseur, Laurent Fresard, here in Ibiza. IBIZA & FORMENTERA STYLE was present at its launch in the setting of the Sant Mateo estate where the rare and genuinely Ibicenco Monastrell vine grows. Laurent, who spent two years travelling around the world, visiting 21 countries and up to three vineyards a day to taste their wines, found the microclimate in this valley perfect for producing a premium rosé. This Frenchman from Burgundy has been involved with wine since he was 17 years old and has helped with the grape harvest in both France and Spain during his holidays ever since he was small. After several years in managerial positions with major wine distributors, the desire to own his own vineyard came to fruition. Together with his friend and business partner Arnaud Tremblais, he tasted a bottle of Es Divi on a visit to Ibiza and discovered that the wine had great potential. He came to an arrangement with the owners of the vines to lease them for an initial 15-year period so he could make his own wine. Laurent stayed in Ibiza while Arnault returned to Perpignan in France where they both own another vineyard. Looking for a suitable name for the new rosé, they started playing around with the words hibiscus and Ibiza and came up with Ibizkus. Only 12,000 bottles of wine will be produced in order to safeguard its quality and exclusivity.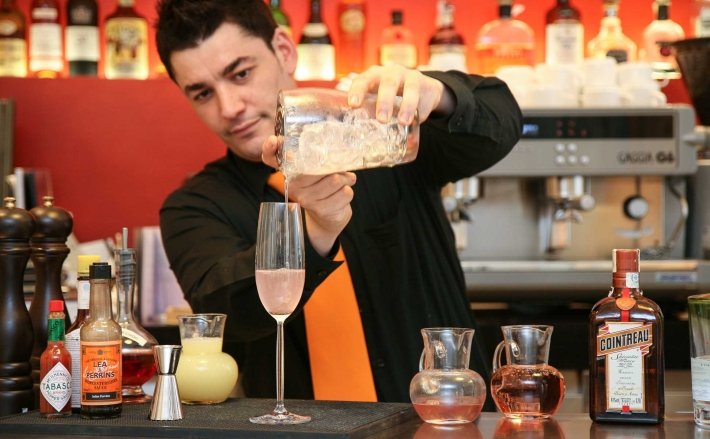 CÓCTEL IBIZKUS by Alberto Ruiz
To celebrate the launch of the new rosé 'Ibizkus', Alberto Ruiz, the bartender at the Hotel Mirador has created the IBIZKUS COCKTAIL:
¼ oz. Cointreau
½ oz. Ibizkus reduction with Rosejam
½ oz. Gin G'Vine
2 oz. Wine Ibizkus rosé
1 oz. Soda-water
Place all the ingredients in a champagne flute in the order listed above, and garnish with an hibiscus flower.